One type of suspended ceiling is made up of Acoustic Ceiling Tiles (ACT) and a stick-built grid system. Sometimes called a lay-in ceiling, this type of system is versatile, durable, and cost effective. In addition, the ceiling tiles can be removed without damage to the system so that above ceiling items can be maintained. Seen throughout many commercial and institutional buildings, ACT is a popular ceiling material that now has a wide variety of aesthetic options.
Acoustic Lay-In Ceiling Panels vs. Acoustic Ceiling Tiles
First, we have to address the nomenclature for suspended ceiling systems. We often refer to the ceilings you see below as an "ACT ceiling", meaning acoustic ceiling tiles. However, ASTM C636 Standard Practice for Installation of Metal Ceiling Suspension Systems for Acoustical Tile and Lay-In Panels makes a distinction between tiles and panel. In reality, these are actually ceiling panels.
Ceiling Tiles are mechanically fastened to a concealed suspension grid. They are generally 12" x 12". The effect was to create a monolithic look while still providing access to services above the ceiling. Tiles were popular in the 1980s, but are not used as often anymore.
Lay-In Ceiling Panels are more common today. The come in various shapes and sizes and are laid into an exposed grid. The most common sizes are 24" x 24" or 24" x 48".
Suspended Acoustic Ceiling Components
The diagram below identifies the major components of a suspended lay-in ceiling. The continuous main beam T shapes are suspended from the structure above by hanger wires. Shorter cross T segments connect to the main beam T shapes to make a rigid frame.  Edge molding shapes are attached to the walls around the perimeter of the room. Finally, ceiling panels are dropped into the grid to finish the ceiling.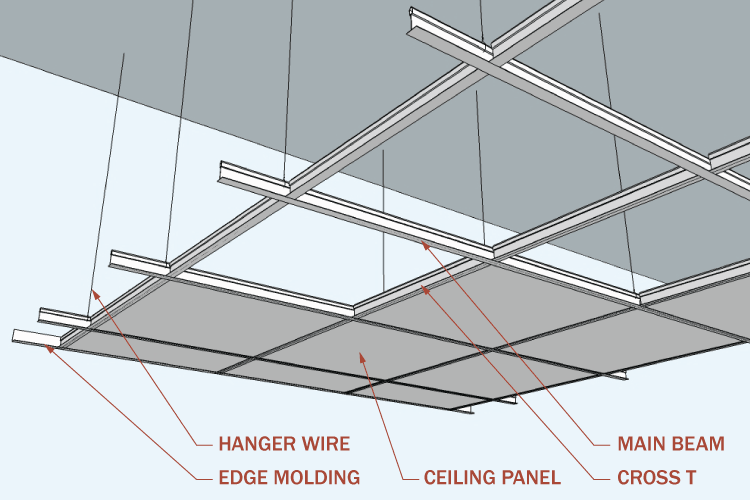 Ceiling Grid T Shapes
The most commonly used T shapes are 15/16" wide; however, 9/16" wide T shapes are becoming more common. Suspended ceiling manufacturers also make a variety of shapes that offer aesthetic options to the designer. A stepped T shape is often used with tegular panels to provide a ceiling with more depth. A reveal T shape provides a notch along the length of the grid that makes the T shapes recede more than a typical T shape.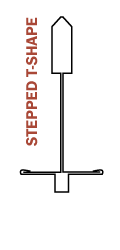 There are two common edge moldings used to terminate a ceiling grid at a wall. The standard shape is the Angle Molding. Also available is a Shadow Molding, which creates a shadow line along the edge of the room. Manufacturers also provide their own series of edge molding shapes.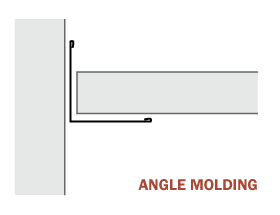 Ceiling Panel Materials and Design
Ceiling panels come in an infinite variety of textures and designs. Most ceiling panels are made from mineral fiber, but other materials are available, such as fiberglass. Mineral fiber panels typically have a high Noise Reduction Coefficient (NRC), which means they are good at absorbing sound within a space to prevent echo or loud environments. While some panels have a high Ceiling Attenuation Class (CAC), meaning they prevent sound from passing through the ceiling to another space, acoustic ceiling panels are generally not used to provide privacy between spaces.
In addition to panel material, there are a wide variety of designs available. Panels may have a rough appearance or a smooth appearance. They may also have designs imprinted in them or other patterns scored into the panel. There are a few edge options that are typical, as shown below.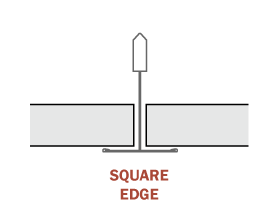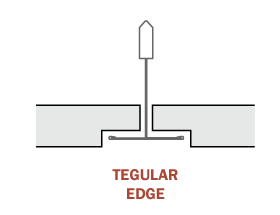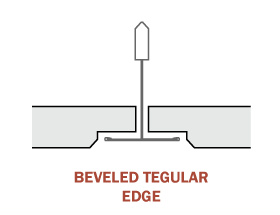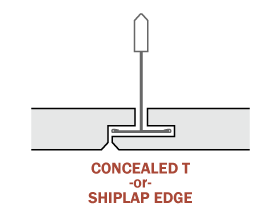 Ceiling Panel Sizes
Lay-In ceiling panels come in a wide variety of shapes and sizes. In addition to the standard panels, custom panels are available from most manufacturers. Ceiling panels can be made in virtually any shape. Standard sizes are listed below in inches.
| | | |
| --- | --- | --- |
| 12" x 12" | 12" x 24" | 24" x 24" |
| 24" x 24" | 24" x 48" | 24" x 60" |
| 24" x 72" | 30" x 30" | 20" x 60" |
| 30" x 60" | 60" x 60" | 48" x 48" |
Seismic Considerations
For suspended ceilings in seismic zones, special considerations must be made. Some of these considerations include wider edge moldings, limits on size of ceiling or weight of ceiling, additional attachment requirements, additional bracing requirements, and additional inspection requirements.
Refer to to the codes of your jurisdiction for more detailed information. In addition, there is a separate standard for suspended systems in seismic zones: ASTM E580 Standard Practice for Installation of Ceiling Suspension Systems for Acoustical Tile and Lay-in Panels in Areas Subject to Earthquake Ground Motions.