In the United States, OSHA provides design requirements for access ladders. These fixed ladder design standards help building owners and operators to provide a safe working environment for their team. Architects and engineers must understand the safety regulations so they can design safe access to back-of-house spaces. In addition to the OSHA standards, it is important to confirm the building code requirements for state and local jurisdictions.
OSHA Requirements for Fixed Ladders appear in 29 CFR 1910.23 (Ladders). The information provided below covers general design requirements. Refer to the OSHA link for full documentation.
The International Building Code indicates that permanent ladders are not allowed as part of the means of egress, but they can be used to access certain mechanical or maintenance spaces as identified in section 1011.16. That section of the IBC also directs you to section 306.5 of the International Mechanical Code, which provides design criteria for permanent ladders. The criteria are similar, but there are a couple of notable differences.
Finally, refer to ANSI A14.3-2008, American National Standard for Ladders-Fixed-Safety Requirements. There are some requirements in the ANSI standard that differ from OSHA requirements. Speak to a code consultant to determine what standards and regulations apply to your project.
If you are interested in sloped ladders that act more like stairs, please refer to our article about ships ladders.
OSHA Fixed Ladder Requirements
Minimum Design Live Load: Ladders must be capable of supporting their maximum intended load.
Rung Spacing: 10" minimum and 14" maximum spacing from centerline to centerline of rungs. There are exceptions for ladders in elevator shafts or on telecommunications towers. Note: ANSI A14.3-2008 calls for exactly 12" spacing of rungs (the first rung can be up to 14" from the floor surface.)
Rung Width: The minimum clear width of rungs on fixed ladders shall be 16". Note: The International Mechanical Code 2018 (306.5.4) calls for a minimum of 18" between rails. This width increases to 24" clear at the top of the ladder where the side rails extend 42" above the deck.
Climbing Side Clearance: For 90 degree (vertical) ladders, there shall be 30" of clear space on the climbing side.
Back Side Clearance: The distance from the center-line of rungs to a permanent object behind the ladder (i.e. a wall) shall be 7" minimum. Elevator pit ladders may have a minimum distance of 4.5" behind the ladder.
Pitch: Fixed ladders shall not have a pitch greater than 90 degrees.
Side Rails or Grab Bars: Extend 42" above the landing or access level.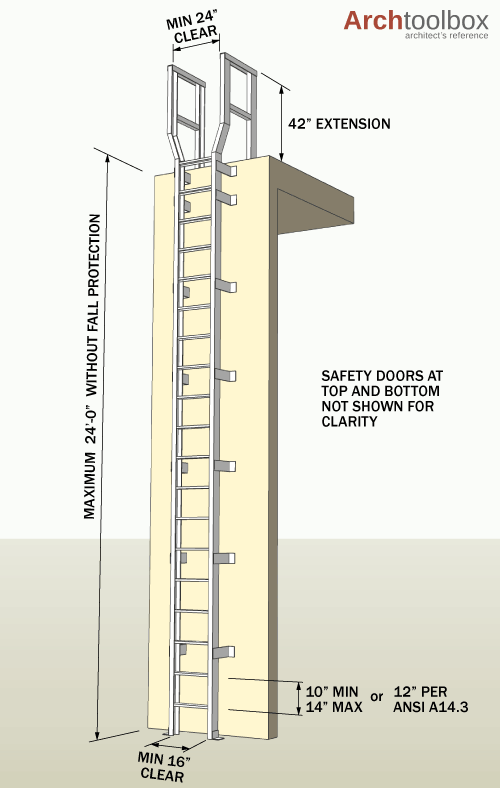 OSHA Fixed Ladder Fall Protection
An employer's obligation to provide fall protection for fixed ladders is called out in 29 CFR 1910.28 (Duty to have fall protection and falling object protection). This section of the code states that a fall arrest system or ladder safety system is required for all fixed ladders that extend more than 24 feet above a lower level. Existing ladders that extend more than 24 feet may have a cage or well until November 18, 2036, at which point they must be replaced with a fall arrest system or ladder safety system.
The criteria for fall arrest systems, ladder safety systems, cages, and wells is specified in 29 CFR 1910.29 (Fall protection systems and falling object protection—criteria and practices).