Pipe dimensions vary based on the schedule and material. There is quite a bit that goes into the dimensions, but you can use the table of contents if you want to skip all of that and jump directly to the pipe size charts.
Nominal Pipe Size
Nominal Pipe Size (abbreviated NPS) is a North American standard for identifying pipe sizes. Technically, the NPS is non-dimensional and only roughly refers to the diameter of the pipe. However, from NPS 14 and above, the NPS value matches the outside diameter of the pipe. Nominal Pipe Sizes apply to all materials of pipe. When specific pipes are specified, the NPS, Schedule, and material are required.
Outside of North America, pipes are identified by Diametre Nominel (DN), which is a dimensionless value that roughly equates to the outside diameter of the pipe in mm. The DN dimensions must conform to ISO Standard 6708.
Understanding Pipe Schedule Terminology
While the Nominal Pipe Size identifies the outside diameter of the pipe, more information is needed to identify specific pipes. A pipe's schedule is the thickness of the pipe wall, which directly affects the interior dimension and weight of the pipe. Wall thickness is important because it determines the amount of internal pressure that the pipe can withstand. The schedule number is roughly calculated as: Schedule = 1000 x (P/S) where P is the internal service pressure of the pipe (psig) and S is the ultimate tensile strength of the pipe material (psi).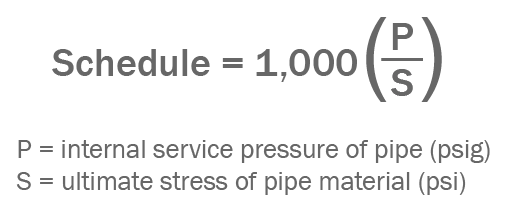 In addition to the schedule numbers, you will often see Standard (STD), Extra Strong (XS), and Double Extra Strong (XXS). These were original terms used prior to the schedule system that was implemented in 1927. It was originally intended for these to be phased out, but they occasionally appear. Stainless Steel pipe schedules append an "S" to the end of the schedule number, for instance Schedule 40S.
The two most common schedule sizes seen in buildings are Schedule 40 and Schedule 80. However, some process piping, utility facilities, and civil piping may require higher schedule numbers depending on the pressures used.
Pipes vs. Tubes
Pipes are used to transport gases or fluids. As stated above, they are measured with nominal outside diameters using NPS and Schedule to define the pipe size.
On the other hand, tubes are structural members and are measured with an exact outside diameter. Tubing is measured by the exact outside diameter and the wall thickness (WT). The manufacturing tolerances are much tighter than in pipes.
Steel Pipe Sizes - Schedule 40
| NPS | OUTSIDE DIAMETER (IN) | INSIDE DIAMETER (IN) | WALL THICKNESS (IN) | WEIGHT (LB/FT) |
| --- | --- | --- | --- | --- |
| 1/8 | 0.405" | 0.269" | 0.068" | 0.24 lb/ft |
| 1/4 | 0.540" | 0.364" | 0.088" | 0.42 lb/ft |
| 3/8 | 0.675" | 0.493" | 0.091" | 0.57 lb/ft |
| 1/2 | 0.840" | 0.622" | 0.109" | 0.85 lb/ft |
| 3/4 | 1.050" | 0.824" | 0.113" | 1.13 lb/ft |
| 1 | 1.315" | 1.049" | 0.133" | 1.68 lb/ft |
| 1-1/4 | 1.660" | 1.380" | 0.140" | 2.27 lb/ft |
| 1-1/2 | 1.900" | 1.610" | 0.145" | 2.72 lb/ft |
| 2 | 2.375" | 2.067" | 0.154" | 3.65 lb/ft |
| 2-1/2 | 2.875" | 2.469" | 0.203" | 5.79 lb/ft |
| 3 | 3.500" | 3.068" | 0.216" | 7.58 lb/ft |
| 3-1/2 | 4.000" | 3.548" | 0.226" | 9.11 lb/ft |
| 4 | 4.500" | 4.026" | 0.237" | 10.79 lb/ft |
| 5 | 5.563" | 5.047" | 0.258" | 14.62 lb/ft |
| 6 | 6.625" | 6.065" | 0.280" | 18.97 lb/ft |
| 8 | 8.625" | 7.981" | 0.322" | 28.55 lb/ft |
| 10 | 10.750" | 10.020" | 0.365" | 40.48 lb/ft |
| 12 | 12.75" | 11.938" | 0.406" | 53.52 lb/ft |
| 14 | 14.000" | 13.124" | 0.438" | 63.50 lb/ft |
| 16 | 16.000" | 15.000" | 0.500" | 82.77 lb/ft |
| 18 | 18.000" | 16.876" | 0.562" | 104.70 lb/ft |
| 20 | 20.000" | 18.812" | 0.594" | 123.10 lb/ft |
| 24 | 24.000" | 22.624" | 0.688" | 171.30 lb/ft |
Steel Pipe Sizes - Schedule 80
| NPS | OUTSIDE DIAMETER (IN) | INSIDE DIAMETER (IN) | WALL THICKNESS (IN) | WEIGHT (LB/FT) |
| --- | --- | --- | --- | --- |
| 1/8 | 0.405" | 0.215" | 0.095" | 0.32 lb/ft |
| 1/4 | 0.540" | 0.302" | 0.119" | 0.54 lb/ft |
| 3/8 | 0.675" | 0.423" | 0.126" | 0.74 lb/ft |
| 1/2 | 0.840" | 0.546" | 0.147" | 1.09 lb/ft |
| 3/4 | 1.050" | 0.742" | 0.154" | 1.47 lb/ft |
| 1 | 1.315" | 0.957" | 0.179" | 2.17 lb/ft |
| 1-1/4 | 1.660" | 1.278" | 0.191" | 3.00 lb/ft |
| 1-1/2 | 1.900" | 1.500" | 0.200" | 3.63 lb/ft |
| 2 | 2.375" | 1.939" | 0.218" | 5.02 lb/ft |
| 2-1/2 | 2.875" | 2.323" | 0.276" | 7.66 lb/ft |
| 3 | 3.500" | 2.900" | 0.300" | 10.25 lb/ft |
| 3-1/2 | 4.000" | 3.364" | 0.318" | 12.50 lb/ft |
| 4 | 4.500" | 3.826" | 0.337" | 14.98 lb/ft |
| 5 | 5.563" | 4.813" | 0.375" | 20.78 lb/ft |
| 6 | 6.625" | 5.761" | 0.432" | 28.57 lb/ft |
| 8 | 8.625" | 7.625" | 0.500" | 43.39 lb/ft |
| 10 | 10.750" | 9.562" | 0.594" | 64.42 lb/ft |
| 12 | 12.75" | 11.374" | 0.688" | 88.63 lb/ft |
| 14 | 14.000" | 12.500" | 0.750" | 106.10 lb/ft |
| 16 | 16.000" | 14.312" | 0.844" | 136.58 lb/ft |
| 18 | 18.000" | 16.124" | 0.938" | 170.87 lb/ft |
| 20 | 20.000" | 17.938" | 1.031" | 208.92 lb/ft |
| 24 | 24.000" | 21.562" | 1.219" | 296.58 lb/ft |
Stainless Steel Pipe Sizes - Schedule 40S
| NPS | OUTSIDE DIAMETER (IN) | INSIDE DIAMETER (IN) | WALL THICKNESS (IN) | WEIGHT (LB/FT) |
| --- | --- | --- | --- | --- |
| 1/8 | 0.405" | 0.269" | 0.068" | 0.25 lb/ft |
| 1/4 | 0.540" | 0.364" | 0.088" | 0.40 lb/ft |
| 3/8 | 0.675" | 0.493" | 0.091" | 0.58 lb/ft |
| 1/2 | 0.840" | 0.622" | 0.109" | 0.87 lb/ft |
| 3/4 | 1.050" | 0.824" | 0.113" | 1.20 lb/ft |
| 1 | 1.315" | 1.049" | 0.133" | 1.68 lb/ft |
| 1-1/4 | 1.660" | 1.380" | 0.140" | 2.27 lb/ft |
| 1-1/2 | 1.900" | 1.610" | 0.145" | 2.72 lb/ft |
| 2 | 2.375" | 2.067" | 0.154" | 3.65 lb/ft |
| 2-1/2 | 2.875" | 2.469" | 0.203" | 5.79 lb/ft |
| 3 | 3.500" | 3.068" | 0.216" | 7.58 lb/ft |
| 3-1/2 | 4.000" | 3.548" | 0.226" | 9.11 lb/ft |
| 4 | 4.500" | 4.026" | 0.237" | 10.79 lb/ft |
| 5 | 5.563" | 5.047" | 0.258" | 14.62 lb/ft |
| 6 | 6.625" | 6.065" | 0.280" | 18.97 lb/ft |
| 8 | 8.625" | 7.981" | 0.322" | 28.55 lb/ft |
| 10 | 10.750" | 10.020" | 0.365" | 40.48 lb/ft |
| 12 | 12.75" | 12.000" | 0.375" | 49.56 lb/ft |
| 14 | 14.000" | 13.250" | 0.375" | 54.57 lb/ft |
| 16 | 16.000" | 15.250" | 0.375" | 62.58 lb/ft |
| 18 | 18.000" | 17.250" | 0.375" | 70.59 lb/ft |
| 20 | 20.000" | 19.250" | 0.375" | 78.60 lb/ft |
| 24 | 24.000" | 23.250" | 0.375" | 94.62 lb/ft |
Stainless Steel Pipe Sizes - Schedule 80S
| NPS | OUTSIDE DIAMETER (IN) | INSIDE DIAMETER (IN) | WALL THICKNESS (IN) | WEIGHT (LB/FT) |
| --- | --- | --- | --- | --- |
| 1/8 | 0.405" | 0.215" | 0.095" | 0.32 lb/ft |
| 1/4 | 0.540" | 0.302" | 0.119" | 0.54 lb/ft |
| 3/8 | 0.675" | 0.423" | 0.126" | 0.74 lb/ft |
| 1/2 | 0.840" | 0.546" | 0.147" | 1.09 lb/ft |
| 3/4 | 1.050" | 0.742" | 0.154" | 1.47 lb/ft |
| 1 | 1.315" | 0.957" | 0.179" | 2.17 lb/ft |
| 1-1/4 | 1.660" | 1.278" | 0.191" | 3.00 lb/ft |
| 1-1/2 | 1.900" | 1.500" | 0.200" | 3.63 lb/ft |
| 2 | 2.375" | 1.939" | 0.218" | 5.02 lb/ft |
| 2-1/2 | 2.875" | 2.323" | 0.276" | 7.66 lb/ft |
| 3 | 3.500" | 2.900" | 0.300" | 10.25 lb/ft |
| 3-1/2 | 4.000" | 3.364" | 0.318" | 12.50 lb/ft |
| 4 | 4.500" | 3.826" | 0.337" | 14.98 lb/ft |
| 5 | 5.563" | 4.813" | 0.375" | 20.78 lb/ft |
| 6 | 6.625" | 5.761" | 0.432" | 28.57 lb/ft |
| 8 | 8.625" | 7.625" | 0.500" | 43.39 lb/ft |
| 10 | 10.750" | 9.750" | 0.500" | 54.74 lb/ft |
| 12 | 12.75" | 11.750" | 0.500" | 65.42 lb/ft |
| 14 | 14.000" | 13.000" | 0.500" | 72.09 lb/ft |
| 16 | 16.000" | 15.000" | 0.500" | 82.77 lb/ft |
| 18 | 18.000" | 17.000" | 0.500" | 93.45 lb/ft |
| 20 | 20.000" | 19.000" | 0.500" | 104.10 lb/ft |
| 24 | 24.000" | 23.000" | 0.500" | 125.50 lb/ft |
Polyvinyl Chloride (PVC) Pipe Sizes - Schedule 40
Chlorinated Polyvinyl Chloride (CPVC) has the same dimensions as PVC, but weighs slightly more than PVC
| NPS | OUTSIDE DIAMETER (IN) | INSIDE DIAMETER (IN) | WALL THICKNESS (IN) | WEIGHT (LB/FT) |
| --- | --- | --- | --- | --- |
| 1/8 | 0.405" | 0.269" | 0.068" | 0.05 lb/ft |
| 1/4 | 0.540" | 0.364" | 0.088" | 0.09 lb/ft |
| 3/8 | 0.675" | 0.493" | 0.091" | 0.12 lb/ft |
| 1/2 | 0.840" | 0.622" | 0.109" | 0.17 lb/ft |
| 3/4 | 1.050" | 0.824" | 0.113" | 0.23 lb/ft |
| 1 | 1.315" | 1.049" | 0.133" | 0.33 lb/ft |
| 1-1/4 | 1.660" | 1.380" | 0.140" | 0.45 lb/ft |
| 1-1/2 | 1.900" | 1.610" | 0.145" | 0.54 lb/ft |
| 2 | 2.375" | 2.067" | 0.154" | 0.72 lb/ft |
| 2-1/2 | 2.875" | 2.469" | 0.203" | 1.14 lb/ft |
| 3 | 3.500" | 3.068" | 0.216" | 1.49 lb/ft |
| 3-1/2 | 4.000" | 3.548" | 0.226" | 1.79 lb/ft |
| 4 | 4.500" | 4.026" | 0.237" | 2.19 lb/ft |
| 5 | 5.563" | 5.047" | 0.258" | 2.87 lb/ft |
| 6 | 6.625" | 6.065" | 0.280" | 3.73 lb/ft |
| 8 | 8.625" | 7.981" | 0.322" | 5.62 lb/ft |
| 10 | 10.750" | 10.020" | 0.365" | 7.97 lb/ft |
| 12 | 12.75" | 11.938" | 0.406" | 10.53 lb/ft |
| 14 | 14.000" | 13.126" | 0.437" | 12.46 lb/ft |
| 16 | 16.000" | 15.000" | 0.500" | 16.29 lb/ft |
| 18 | 18.000" | 16.876" | 0.562" | 20.59 lb/ft |
| 20 | 20.000" | 18.814" | 0.593" | 24.18 lb/ft |
| 24 | 24.000" | 22.626" | 0.687" | 33.65 lb/ft |
Polyvinyl Chloride (PVC) Pipe Sizes - Schedule 80
Chlorinated Polyvinyl Chloride (CPVC) has the same dimensions as PVC, but weighs slightly more than PVC
| NPS | OUTSIDE DIAMETER (IN) | INSIDE DIAMETER (IN) | WALL THICKNESS (IN) | WEIGHT (LB/FT) |
| --- | --- | --- | --- | --- |
| 1/8 | 0.405" | 0.215 | 0.095 | 0.06 lb/ft |
| 1/4 | 0.540" | 0.302" | 0.119" | 0.11 lb/ft |
| 3/8 | 0.675" | 0.423" | 0.126" | 0.15 lb/ft |
| 1/2 | 0.840" | 0.546" | 0.147" | 0.21 lb/ft |
| 3/4 | 1.050" | 0.742" | 0.154" | 0.29 lb/ft |
| 1 | 1.315" | 0.957" | 0.179" | 0.42 lb/ft |
| 1-1/4 | 1.660" | 1.278" | 0.191" | 0.59 lb/ft |
| 1-1/2 | 1.900" | 1.5" | 0.200" | 0.71 lb/ft |
| 2 | 2.375" | 1.939" | 0.218" | 0.98 lb/ft |
| 2-1/2 | 2.875" | 2.323" | 0.276" | 1.50 lb/ft |
| 3 | 3.500" | 2.900" | 0.300" | 2.10 lb/ft |
| 3-1/2 | 4.000" | 3.364" | 0.318" | 2.45 lb/ft |
| 4 | 4.500" | 3.826" | 0.337" | 2.94 lb/ft |
| 5 | 5.563" | 4.813" | 0.375" | 4.08 lb/ft |
| 6 | 6.625" | 5.761" | 0.432" | 5.61 lb/ft |
| 8 | 8.625" | 7.625" | 0.500" | 8.52 lb/ft |
| 10 | 10.750" | 9.562" | 0.594" | 12.64 lb/ft |
| 12 | 12.75" | 11.374" | 0.688" | 17.38 lb/ft |
| 14 | 14.000" | 12.500" | 0.750" | 20.85 lb/ft |
| 16 | 16.000" | 14.312" | 0.844" | 26.81 lb/ft |
| 18 | 18.000" | 16.124" | 0.938" | 33.54 lb/ft |
| 20 | 20.000" | 17.938" | 1.031" | 41.05 lb/ft |
| 24 | 24.000" | 21.562" | 1.219" | 58.23 lb/ft |