Electrical faceplates, also called wallplates or coverplates, come in an infinite array of combinations, sizes, and shapes. However, there are some standard sizes for basic faceplates. Dimensions for faceplates and other electrical devices are covered by ANSI/NEMA WD 6, Wiring Devices - Dimensional Specifications.
Electrical Faceplate Types
There is a wide array of devices that can be accommodated by an electrical faceplate including: outlets, switches, motion sensors, telephone jacks, data jacks, dimmers, etc. Some of the more common faceplate configurations are shown below.
Electrical Outlets
Openings: 1.343" W x 1.125" H
Toggle or Switch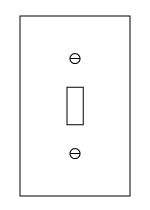 Opening: 0.401" W x 0.925" H
Decorative or Rocker
Opening: 1.310" W x 2.630" H
Telephone or Data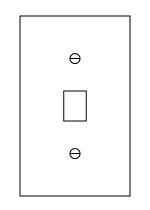 Opening: Varies
Gangs
Gangs refer to the number of vertical groups of openings that are accommodated. The devices can change between gangs. For instance, in a 4 gang electrical box, one could have any combination of devices (1 toggle switch and 3 duplex outlets; or 2 toggle switches and 2 duplex outlets; or 1 toggle switch, 2 duplex outlets, and 1 tele/data; etc).
Electrical faceplates come in 1-gang up to 10-gang. Shown below are 1-gang through 4-gang.
1-Gang
Shown: Single Duplex
2-Gang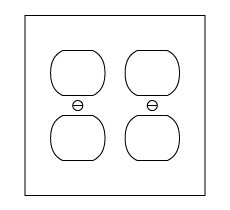 Shown: Double Duplex
3-Gang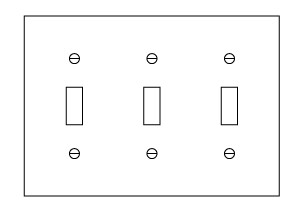 Shown: Triple Toggle
4-Gang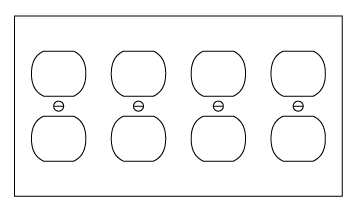 Shown: Quadruple Duplex
Standard Size Electrical Faceplates
All standard size faceplates are 4.490" in height. Widths are listed below. Please note that these sizes are standard; however, your faceplates may not match. Manufacturers make various sizes for non-standard conditions. For instance, there are oversize faceplates used to cover a larger hole in the wall.
| GANGS | WIDTH |
| --- | --- |
| 1-Gang | 2-3/4" |
| 2-Gang | 4-1/2" |
| 3-Gang | 6-3/8" |
| 4-Gang | 8-3/16" |
| 5-Gang | 10" |
| 6-Gang | 11-13/16" |
| 7-Gang | 13-5/8" |
| 8-Gang | 15-7/16" |
| 9-Gang | 17-1/4" |
| 10-Gang | 19-1/16" |
Oversized or Jumbo Outlet Faceplates
The NEMA standard does not recognize oversized or jumbo faceplates. However you may need to specify jumbo plates in renovation projects where the drywall or plaster hole is larger than a standard plate will cover. A Jumbo outlet faceplate is 5.50" tall. Widths are listed below, but we recommend checking with the manufacturer since sizes may vary.
| GANGS | WIDTH |
| --- | --- |
| 1-Gang | 3-1/2" |
| 2-Gang | 5-1/2" |
| 3-Gang | 7-1/2" |
| 4-Gang | 9-1/2" |
| 5-Gang | 11-1/2" |
| 6-Gang | 12-1/2" |
| 7-Gang | 14-3/8" |
| 8-Gang | 16-3/8" |
| 9-Gang | 18-3/8" |
| 10-Gang | 20-3/8" |