The diagram below identifies the components of a light fixture, also known as a luminaire. The diagram shows a recessed can fixture, but the components apply to all light fixtures. Keep in mind that some of the components are optional and will not be found on every luminaire. Descriptions of the components can be found below the diagram.
For a list of the different types of light fixtures, refer to our article: Types of Light Fixtures (Luminaire).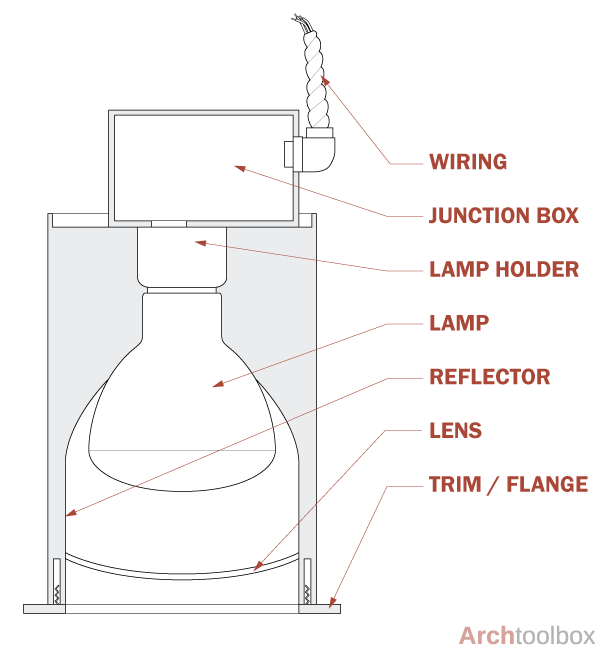 Wiring
Electrical wiring, which provides power to the luminaire. Depicted here is flexible conduit, but it can also be hard piped based on electrical codes.
Junction Box
The junction box provides a location to connect the wiring that comes from the power source with the internal wiring for the light fixture. Shown is a box attached to the top of the fixture; however, this is sometimes a separate box and sometimes the connection is made inside the fixture.
Lamp Holder
The lamp holder or light socket is the receptacle that the lamp screws into.
Lamp
The lamp, often referred to as the light bulb, emits light when connected to a power source. The lamp is often sold separately from the fixture. It is important to use lamps in a wattage that are recommended for the fixture to prevent damage or possible fire.
Reflector
The reflector provides a reflective surface to direct or spread the light from the lamp out into the space. Parabolic reflectors focus light toward a point, while elliptical reflectors spread light.
Lens
The lens is a transparent or translucent material used to direct or diffuse light. In addition, the lens protects the lamp; however, it can also trap heat, which can be problematic.
The lens, reflector, and lamp all contribute to lighting levels and the light distribution in a space.
Trim
The trim or flange is a decorative element that is detachable. This piece is installed after the finished wall or ceiling material is installed. Since ceiling materials require a space between the fixture and the material, the trim piece is used to cover this space and provide a clean finish.