This article includes affiliate links and Archtoolbox earns from qualifying purchases. More info.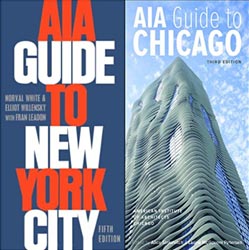 The AIA City Guides are our go-to source for architectural tourism in some of America's great cities. If you are an architect visiting New York, Boston, Atlanta, Minneapolis, Chicago, or Los Angeles then you want to have one of these guidebooks with you.
Each guide is broken down into chapters that cover a single neighborhood. The first pages of a neighborhood chapter contain a map with all of the relevant architecture identified and a narrative that describes the overall characteristics of the neighborhood. Following that, specific buildings are covered.
Each building description starts with the names of the architects, the dates of construction, and info on any renovations or additions. Then there is a well-written description of the building that gives detail about its features and why it is significant. Most of the buildings have small photos adjacent to the text descriptions.
AIA City Guides are highly recommended by Archtoolbox.