Environmental Product Declarations (EPDs) are like nutrition labels on a food product, but geared toward environmental and sustainable attributes. EPDs include the product's life cycle assessment, from the raw material extraction to its disposal, so we can measure a product's environmental impact.
What is an Environmental Product Declaration?
The intent behind an Environmental Product Declaration is to encourage the use of materials and products that offer life cycle information and have socially and economically preferable impacts on our planet. Project teams may be rewarded for purchasing materials from manufacturers who have certified and improved environmental standards.
EPDs are a form of life cycle assessment and are the standard way of quantifying the impact of a product or system on the environment. Declarations may include:
Manufacturer / Company Information
Product Identification Information
Life Cycle Assessment (LCA) Methodology
Product Category Rules (PCR)
Data on raw material acquisition
Content of materials
Chemical substances
Efficiency and energy use
Emissions (to air, soil, and water)
Waste generation
Analysis of the LCA Results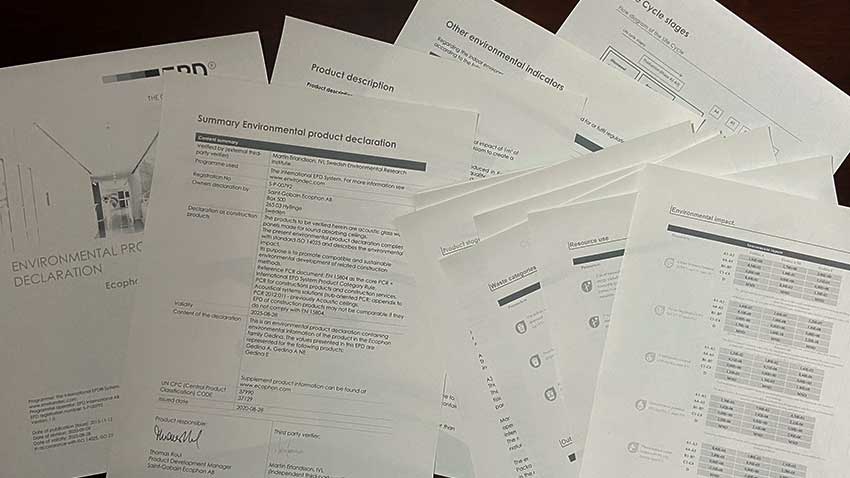 When an EPD is created it is in accordance with the International Standard ISO 14025 and EN 15804guidelines. They are developed based on life cycle assessments following ISO 14040 (Environmental management - Life cycle assessment - Principles and framework) and ISO 14044 (Environmental management - Life cycle assessment - Requirements and guidelines), which describe the process for doing a life cycle assessment.
The ISO 14025 (Environmental Labels and Declarations — Type III Environmental Declarations — Principles and Procedures) establishes the principles and specifies the procedures needed to develop Type III environmental product declarations. These Type III declarations are the most rigorous since they have detailed rules and must be verified by a third party.
The European construction industry follows EN 15804 (Sustainability of construction works - Environmental product declarations - Core rules for the product category of construction products). Like ISO 14025, this is a third-party Type III environmental declaration procedure.
Generally, Environmental Product Declarations are valid for up to 5 years.
Important Note: Although EPDs educate consumers on the product, they are for disclosure purposes only. This means the product itself may not necessarily meet any environmental performance standards.
Benefits of an Environmental Product Declaration
Clients, developers, and designers use EPDs and LCAs to select products that have the lightest impact on the environment. An architect who understands the entire life cycle of building materials can help create a more sustainable building industry.
EPDs and Life Cycle Assessments (LCAs)
Every product goes through different stages of life. Carefully watching and assessing the life cycle can tell you a lot about its impact on the environment. An LCA looks at all stages of a product's life, including:
Raw material extraction and processing
Manufacturing
Distribution / Transportation
Use
Repair/Maintenance
Disposal/Recycling
Product Category Rules (PCR)
A key component of an EPD and LCA is yet another three-letter acronym: the Product Category Rules (PCR), which define how the data is collected for a specific type of product. PCRs may include the boundary conditions, data used, and system inputs. When these parameters are followed, it allows reviewers to achieve consistent results, which then allows different products to be compared.
PCRs are developed and administered by a program operator. These are generally standards organizations. For instance, three common North American program operators are ASTM, NSF, and UL.
PCRs are required for the complete Type III EPD as defined by ISO 14025.
Types of EPDs for LEED
LEED (Leadership in Energy and Environmental Design) offers a credit under the Materials and Resources category for Building Product Disclosure and Optimization (BPDO) if a project uses "at least 20 different permanently installed products sources from at least five different manufacturers" that have product declarations.
LEED recognizes different types of declarations. Products contribute to the overall 20 product requirement differently depending on whether you are using LEED V4 or V4.1. For more information be sure to review the LEED documentation for Building Product Disclosure and Optimization for LEED v4 and for LEED v4.1.
Industry Wide Type III EPDs
Industry Wide EPDs are generic declarations that cover the average product across many manufacturers. You may find an industry wide EPD for products such as ceramic tile, MDF, or gypsum board. While these follow Type III guidelines for third party verification, they don't cover individual products since they only account for the average product in the group. Manufacturers claiming an industry wide EPD must be recognized by the program operator who developed the EPD.
Industry wide EPDs contribute to the MR Credit for BPDO as follows:
LEED v4: 0.5 product contribution
LEED v4.1: 1 full product contribution
Product Specific LCA (non-EPD)
LEED recognizes product specific life-cycle assessments as long as they are publicly available, are critically reviewed, and conform to ISO 14044. The scope of the assessment must be from cradle to gate.
Product specific LCAs contribute to the MR Credit for BPDO as follows:
LEED v4: 0.25 product contribution
LEED v4.1: 1 full product contribution
Product Specific Type III EPD - Internally Reviewed
Product specific EPDs cover one individual product from a single manufacturer. You can think of it as an EPD that addresses one specific SKU. LEED requires that all product specific EPDs have a scope that covers from cradle to gate.
Internally reviewed EPDs do not have a third-party certification so they must conform to ISO 14071, which are additional requirements and guidelines above ISO 14044. Of course, these EPDs must still follow ISO 14025as well as either EN 15804 or ISO 21930 (Sustainability In Building Construction - Environmental Declaration Of Building Products).
Internally reviewed product specific Type III EPDs contribute to the MR Credit for BPDO as follows:
LEED v4: not applicable
LEED v4.1: 1 full product contribution
The following image shows the check box that indicates whether an EPD is internally reviewed or third party reviewed. In this case, this is an externally reviewed EPD.

Product Specific Type III EPD (Third-Party Reviewed)
This is the most thorough type of EPD, which covers a single product from a manufacturer and is reviewed by a third-party entity. It also conforms to ISO 14025 and either EN 15804 or ISO 21930. Like all product specific EPDs, the scope must cover the product's life-cycle from cradle to gate. The third-party review makes for the most stringent EPD process, thus it achieves additional contributions toward the LEED BPDO credit:
LEED v4: 1 full product contribution
LEED v4.1: 1.5 products contribution
EPDs and Other Sustainability Programs
Green Building Certification and Rating Systems are on the rise, as more organizations and businesses recognize the potential and benefits of creating sustainable and environmentally-friendly built-environments.
With this, sustainability programs such as LEED, BREEAM, WELL, Living Building Challenge, BIFMA and Green Globes have given credits or points for using products that have EPDs that meet their requirements. Other green certification bodies require the product manufacturer to be listed in the generic EPD to add to their credit score. This encourages the use of EPD and the rise of the number of EPD in the market.
In addition to EPDs, some green certification programs offer points for Health Product Declarations (HPDs).
How Manufacturers Apply for an EPD
To obtain an EPD for their products, manufacturers will need to choose a program operator that will oversee the EPD development process in line with the ISO 14025 guidelines. For instance, some well known North American program operators include the major standards agencies like ASTM, NSF, and UL. EPD program operators in Europe include BRE (UK), IBU (Germany), and AFNOR (France).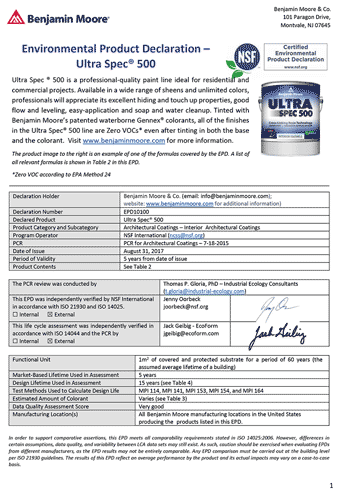 The first step in applying for an EPD is to find or create a PCR that applies to the particular product category. After finalizing the PCR, the manufacturer completes a life-cycle assessment in accordance with the finalized PCR. Once LCA is completed, the final EPD may then be created by a third party or by the manufacturer or its representative.
The appointed Program Operator confirms that the EPD satisfies the applicable international standards as well as the PCR. For the verification process, it can be done either by an internal reviewer or by a third-party verifier which will be appointed by the Program Operator. The Program Operator in consultation with the verifier will establish a transparent verification process.
Due to the complexities of some products like furniture or electrical equipment, developing an EPD may prove difficult or impossible. Many companies find that their supply chains are so complex that it isn't realistic to develop EPDs and the information provided may not be all that helpful to the end users and building owners. Architects and building owners should be aware that EPDs are not available for every product.
Environmental Product Declaration Database
Unfortunately, there isn't a single EPD database that covers building products around the world.
The EPD Registry is a non-profit developing a searchable online database of EPDs, but there aren't many products included as of the writing of this article.
Sadly, the best way to find an EPD is to ask the manufacturer or search for products at Program Operator websites. This isn't very efficient so we hope The EPD Registry becomes more popular.