Building owners increasingly want their structures to be sustainable and health for both the environment and the occupants. Building products with sustainability certifications help architects and engineers select materials that address owner concerns. However, all certifications are not the same. This article covers the different types of certifications and then reviews a number of popular certification programs.
This article is specific to green building product certifications. We have a separate article that covers green certifications (rating systems) for entire buildings.
Benefits of Selecting Certified Green Products
It's true: green buildings and their design can substantially lessen the environmental impacts of construction. For example, highly insulated buildings generally use far less energy.
Sometimes, however, despite their benefits, green buildings are built with the same materials as 'standard' ones - materials which often have high environmental impacts.
Product certifications can help to address this discrepancy because they provide greater levels of detail about the individual products that go into a building's overall construction.
The key benefits of this are summarized in relation to Environmental Benefits and Health Benefits.
Environmental Benefits
The construction industry is notoriously resource and energy intensive. For example, Portland cement in concrete accounts for more than 6% of human-derived carbon emissions.
However, it is not just carbon, energy, or resources. As we know, the environmental impacts of building products stretch further: they involve water extraction, eutrophication, land use, pollution, and waste.
Arguably, the best certification processes include product LCA (life cycle analysis) to account for this range of impacts from material extraction through to end-of-life disposal. It will also look at the longevity of the product and ease/cost of replacement.
However, the environmental criteria for green product certification varies between accreditors and some are no doubt less transparent than others. Nevertheless, among the impact factors they will consider are:
Resource use: manufacturing will be resource efficient, waste efficient, and energy efficient.
Location: locally made products score higher (e.g. timber products) because they reduce transport impacts.
Design: products will be reusable, recycle-able, and durable, reducing environmental impact.
Transparency: to protect the environment, we need to know the what, where, why and how of the product. Supply chains must be traceable.
Health Benefits
The health of workers and consumers forms part of some certification protocols. However, modern building products use a bewildering range of chemicals, so assessment is complicated and relies on time-consuming and expensive testing.
Offering assurances of safety has its own element of risk. For example, chemical hazards can be recognized far too late, as was the case with PCBs (polychlorinated biphenyls). Also, there is the pressure from the chemical industry.
As we shall see, one certification scheme, Declare, focusses on chemicals alone. In theory, this helps to overcome the problem that most of us are not trained chemists. The drawback is that the label may be too narrowly focussed.
Health considerations are vital when choosing building materials. Sadly, however, this fact can get lost. Sometimes occupant health may even be put at risk in the rush for energy efficiency targets, or cost considerations.
This can lead to the use of poor quality and even toxic materials which might endanger lives, for example, the lives of occupants of multiple unit housing blocks or residential homes. This scenario, in which material choice affects lives, was tragically played out in the 2016 Grenfell Tower tragedy in London, in which 72 people died.
The flammability of the type of external insulation used on the Grenfell Tower "increases by factors of 10 to 100 from best to worst product". And the smoke toxicity of this worst product is 15 times greater than for mineral wool.
Types of Certification Labels
ISO (The International Organization for Standardisation) oversees standard setting for green building products. It has independent, non-governmental status and develops standards with the aim of facilitating trade.
However, although there are three types of global ISO standards for green products, their application is not universally applied or necessarily used by green product certifiers. Geography and politics also play a role. For example, Type III are rarely seen in the U.S. but in Europe they are increasingly common.
Consider, that there are also significant differences between the three:
ISO 14024 multi- attribute Type I labels
Is a voluntary seal of approval. It provides simple but accurate information on the life cycle of a product, which must be verified independently.
Information is provided on the combined impacts of the product throughout its useful life, including manufacture. This is done in a way that is easily interpreted by the consumer.
An example is the European ECOLABEL. It indicates that the product has been manufactured in a way that minimizes the use of hazardous chemicals and raw materials and guarantees energy efficiency. It also informs the consumer about the most appropriate way to use and dispose of the product.
ISO 14021 single-attribute Type II labels
Type II labels inform about single environmental claims, such as the recycled content of the product. This declaration can be made by the manufacturers, without the need for external verification.
Therefore, their credibility is compromised, as the consumer must trust the data provided by the manufacturer or service provider. Gaining third-party verification is one method used to overcome this problem.
Specific symbols are not defined for each of the environmental aspects, making them difficult for consumers to understand.
ISO 14025 comprehensive disclosure Type III labels
Comprehensive disclosure labels conforming to ISO 14025 are known as EPDs, or Environmental Product Declarations. They can read more like a report than a label because they provide significantly more detail. As such, they are generally not read by consumers, which is a shame because they are far more rigorous.
These labels are mainly voluntary, but the information is independently verified, so there is far less chance they will include selective or misleading claims compared to Type II.
Information is broken down into impact categories such as resource consumption, eutrophication, emissions, and generation of waste. The content and format are determined by what is known as Product Category Rules (PCR).
PCRs set out the life cycle analysis parameters and determine the environmental indicators for groups of products (e.g. wood stains). Each rule is specific to each system or product category.
Within this group, there are some mandatory labels. The best-known is the European energy label, which designates energy efficiency in household appliances, vehicles, and buildings. Ratings go from D (the least efficient) to A+++ (the most efficient).
Third-Party Labels
Green building products can be first, second, or third-party certified. This distinction is important because only one of them is independently verified. That one of course, is third-party.
First-party certification is carried out by the manufacturer of the product, so risks bias. It is a form of self-declaration which might include unverified claims and 'greenwashing'.
Second-party certification lies in the middle. It involves an external body in the verification process, but still includes elements of self-reporting and self-evaluation. A fee may also be involved, so raises similar questions of trust.
Third-party certification is the most rigorous and the least prone to bias because the entire process is carried out externally. The body undertaking the certification only receives a fee for the assessment, so the process is designed to be impartial.
The third-party carries out product testing and validates that the product meets certain industry-independent standards. This makes it more likely that marketing claims will accurately reflect the environmental impact of the product.
Review of Green Product Certifications
Green product certifications are becoming more common in construction because they are increasingly used within building rating systems such as LEED. Below are some of these certifications as well as some useful information on how they operate.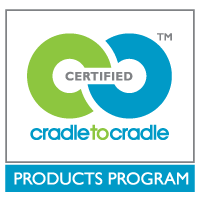 Cradle to Cradle
Cradle to Cradle CertifiedCM products include building materials, textiles, homecare products, toys, fabrics, and packaging. A full list of their certified products, including for construction, can be found at C2Certified.org.
As the name suggests, certification is based on the idea of a circular economy, so products are evaluated on their performance across the categories in the circular economy model, including social equality.
The Standards set by Cradle to Cradle are created through a multi-party engagement process which is said to include the public.
Product assessment is multi-attribute and third-party. However, the body overseeing assessment receives training by the Cradle to Cradle Products Innovation Institute. Certification follows the standards set in ISO 14025.
A product receives an achievement level for each category — Basic, Bronze, Silver, Gold, or Platinum in the categories of material health, material reutilization, renewable energy and carbon management, water stewardship, and social fairness.
Material health and material reutilization are especially relevant to construction, for example they relate directly to LEED's key area of material selection.
One of the advantages of Cradle to Cradle is that for a product to achieve top Platinum status, it must score highly in every category. It is difficult to achieve, so only recently did building materials manage to achieve this status.
The disadvantage of Cradle to Cradle is that it is not based on a life cycle approach, so does not consider the energy use of a product during its lifetime. For this reason, there are studies which suggest that it is not always an appropriate strategy to distinguish environmentally preferable products.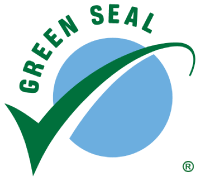 Green Seal
Green Seal approval labels are awarded to products in a range of categories e.g. Paints, Coatings, Stains and Sealers (GS-11) or Windows (GS-13).
Green Seal is a not-for-profit organization and undertakes third-partycertification which meets the criteria set out by EPA for third-party certifiers.
The standards are based on a life cycle approach and include energy use of the product during its lifetime, as well those from raw materials extraction, manufacturing, and re-use or disposal.
Green Seal follows the guidelines of ISO 14020 and studies indicate that the Green Seal Standard is effective for identifying products with lower environmental impacts because unlike other programs, it addresses some of the leading sources of impacts, such as packaging, transportation, and energy use.
The Green Seal website has a database of certified products.

GREENGUARD
GREENGUARD certification focuses mainly on one environmental/health impact: indoor air quality. GREENGUARD is operated by UL Environment, which is part of Underwriters Laboratories.
Tests are thus based on levels of volatile organic compounds (VOCs). In fact, products are tested for thousands of these compounds that off-gas from things like carpets, paints, and sealants.
There are three different product standards. The one relevant to building is called Certification Program for Chemical Emissions For Building Materials, Finishes And Furnishings.
There is also a GREENGUARD GOLD certification for products that meet stricter certification criteria (for additional chemicals). It requires products to have even lower total VOC emissions levels. This gives places like schools and healthcare facilities extra assurance.
GREENGUARD Gold Certified products must comply with California's Department of Public Health (CDPH) Standard Method for the Testing and Evaluation of Volatile Organic Chemical Emissions from Indoor Sources Using Environmental Chambers, Version 1.2 (2017) (also known as California Section 01350).
GREENGUARD Gold Certification may contribute to achievement in green building rating systems, satisfy code or ordinance criteria, and meet indoor air quality specific RFP requirements. For example, Gold Certified products can help contractors or designers to comply with the state of Washington's indoor air quality program for new construction, EPA's procurement specifications, LEED for New Construction (LEED-NC), and LEED for Commercial Interiors (LEED-CI).
GREENGUARD Certified building products are listed in the UL SPOT database.
ENERGY STAR
ENERGY STAR certification is carried out under the guidance of the United States EPA and is considered an independent (third-party) process. It employs 20 independent certification bodies and over 500 labs.
The certification is based on energy efficiency, which might make you think that only electrical products are certified. In fact, they certify anything from sealants to insulation materials. In other words, any product related to saving energy in a building.
In 2019, EPA updated performance requirements for six product categories (displays, dehumidifiers, vending machines, room air cleaners, computers, and roof products) and added smart home energy management systems to the program.
Critics of ENERGY STAR say that, although the certification is voluntary, third-party verified, and aimed at helping consumers, it is not stringent enough and does not adhere to ISO Standards.
The result can be what one study described as 'coarse certifications', i.e., oversimplified assessments that 'crowd out high-quality products' and 'encourage price discrimination'.
Also, the certification process does not involve life cycle analysis, so energy savings post-manufacture may be undermined by high environmental impact during manufacture (or in fact, during other stages of the product life cycle, e.g. transportation).
Regardless of these criticisms, the ENERGY STAR mark continues to be trusted by consumers across the United States.
The ENERGY STAR website has a tool to help find ENERGY STAR Certified products.

Declare Label
The Declare Label lets you know:
Whether the product contains chemicals on the Red List of building materials (includes over 800 chemicals)
End-of-life options for recycling or reuse
Proof of responsible Sourcing (e.g. for timber)
That the product complies with the California Department of Public Health (CDPH) Standard for VOC emissions
There are three compliance levels:
LBC (Living Building Challenge) Red List free
LBC compliant, which means that the product contains some chemicals that have been designated as temporary red list exceptions
Declared, which means that the product is non-compliant with the LBC Red List
The Declare Label is run by the International Living Future Institute (ILFI). In 2019 they released Living Building Challenge 4.0 and Core Green Building Certification ILFI Declare 2.0 has been effective since February 1st, 2020.
Declare is recognized by the LEED v4.1 Building Product Disclosure and Optimization Credit.
Although third-party verification is possible, the Declare label itself does not require independent assessment.
The ILFI maintains a database of Declare products.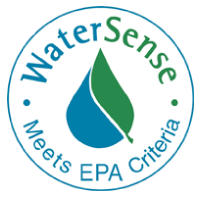 WaterSense
WaterSense is another United States EPA program. It aims to promote water efficient products through a third-party testing process.
Building products like toilets, urinals, shower heads, and outdoor irrigation systems are tested for efficiency and must use at least 20% less water than average products in that category.
Certifying bodies must be accredited in accordance with the WaterSense Product Certification System, Version 2.1, which includes compliance with the requirements of ISO/IEC 17011, ISO/IEC 17065, ISO/IEC 17025.
The success of the system is perhaps due to its simplicity. A limited set of products are tested, under limited criteria. Approved products are listed in the WaterSense database.
Forest Stewardship Council (FSC)
The Forest Stewardship Council promotes the sustainability and proper management of the world's forests. They oversee Forest Management Certification, Chain of Custody Certification, and Controlled Wood Certification.
The FSC has three labels that relate to the type of wood used in the product. There is FSC 100% (the wood is entirely sourced from FSC-certified forests), FSC Recycled (all the wood in the product is recycled), and FSC Mix (in addition to FSC 100% and FSC Recycled, this wood may contain what they call 'controlled wood'). Controlled wood is not FSC certified, but must meet FSC criteria.
Certification bodies are independent third parties that monitor forests and their operations all over the world.
Despite this, or perhaps because of it, critics accuse the FSC of a.) encouraging the creation of anti-competitive timber markets because they have close ties with the biggest timber and logging companies and b.) not monitoring the certifiers closely enough. However, local timber from well-managed forests is a recognized asset in green construction circles.
For example, green building certification programs such as LEED v4 offer credit for FSC-certified timber (the certified wood credit under MRc3 Building product disclosure and optimization – sourcing of raw materials). According to the FSC, under this credit, timber sourced within 100 miles is valued at 200% of its cost.
You can search for FSC certified wood products in the FSC certificate database.