We have a societal responsibility to build healthy and environmentally sustainable buildings. While progress is always being made, we have a long way to go as an industry. Real estate and construction professionals can influence the trajectory toward a more sustainable built environment by encouraging the use of green building rating systems, which allow us to measure progress.
This article covers green certifications for entire buildings. We also have an article that covers certifications for green building products.
According to the UN's 2019 Global Status Report for Buildings and Construction, "Building construction and operations accounted for the largest share of both global final energy use (36%) and energy-related CO2 emissions (39%) in 2018." As you can see in the chart below, buildings are responsible for more energy use and more emissions that any other sector.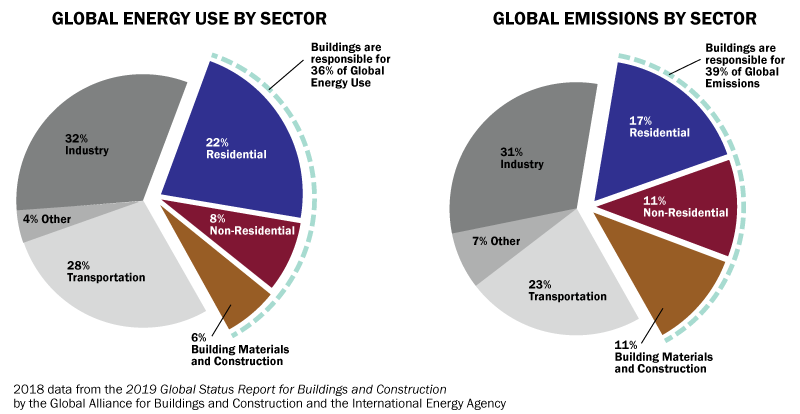 In addition, the construction industry contributes a significant amount of waste. While recycling programs have helped reduce the waste that ends up in landfills, construction and demolition waste is still significant. According to the US Environmental Protection Agency, construction and demolition in the United States accounted for 569 million tons of waste in 2017 — of that amount, demolition generated 536 million tons of waste and new construction generated 33 million tons. Contrast that with 268 tons of municipal solid waste and you can see that the building industry is responsible for a large portion of our landfills.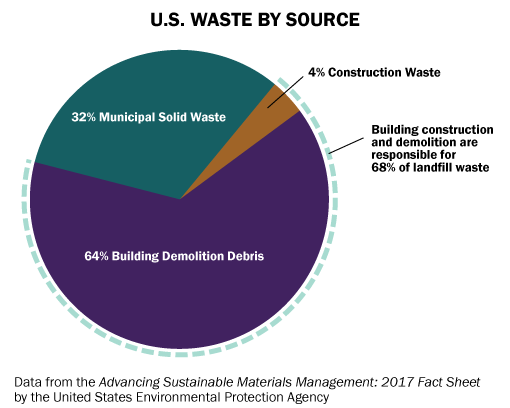 People spend a large part of their days inside buildings. A US EPA study from 1992 to 1994 concluded that Americans spent "an average of 87% of their time in enclosed buildings." The data is quite old, but a 2011 paper in the British Journal of Dermatology confirms that humans in developed countries spend close to 90% of their time indoors. While we should spend more time outside, we should also make an effort to improve the safety of our indoor air quality by using healthy materials and proper ventilation.
Benefits of Green Building Certification
One of the leading benefits for owners to build green buildings is to save significant money on power, heating, and cooling costs over the life of the building. Many green certification programs require a reduction in energy use over a specific baseline. This allows owners to easily calculate their payback period and ongoing return on investment. Savings rates vary widely depending on the methods employed and building type, but there are many net-zero energy-use buildings and even some net-positive buildings that generate more energy than they use.
Commissioning was once one of the things that would get eliminated to save first-costs. Since many certification programs require commissioning of the building systems, and sometimes even the exterior enclosure, owners now see the benefit. Systems are verified to be operating as designed, which makes occupants happier and healthier while saving on energy costs and improving equipment longevity.
Work and learning performance is improved with healthier buildings. While performance gains are harder to calculate (studies range from 4% to 60% improvement), most studies show that work performance is improved with the removal of indoor pollutants and improved ventilation. Certification ensures that design and construction teams meet criteria for improving indoor air quality, thus leading to improved student education and workforce efficiency.
The value of a building can also increase when it has received a green building certification. According to a 2016 Morgan Stanley report, investor return is driven by 10 key factors that sustainable buildings help improve:
Waste Expenses
Energy Expenses
Water Expenses
Leasing Expenses
Maintenance and Repair Costs
Insurance Cost
Financing Cost
Occupancy Rate
Rent Premium
Property Value
The property value increases when operating expenses go down while rent and occupancy rates increase. The certification itself doesn't add value, but it identifies a property that has reduced operating expenses and increased occupant satisfaction. The improved metrics can be, and have been, demonstrated as the report shows. The Morgan Stanley report references three studies that point to a 10% to 30% sale premium for buildings with sustainable certifications.
Sadly, as you can see above, most of the perceived benefits of green building tend to revolve around money since that gives us a tangible metric to calculate the effects. Improved human health and happiness cannot be calculated, but is also an incredibly important factor that should not be overlooked. All of us want to live long, healthy, and happy lives. Since so much of our time is spent indoors, we should strive for the best environment possible.
Problems for Green Building Design
The biggest challenge of adopting sustainable design strategies tends to be the first cost associated with selecting materials and building systems that meet the rating system criteria. As mentioned above, this is usually offset by the energy savings or increased human productivity. However, many clients want to see short payback periods as low as 5 years, which may not be easy to achieve or calculate under some of the programs.
To offset this, some municipalities are developing codes or other legislation that require green strategies to be undertaken. In many cases, the municipalities develop energy performance criteria, but do not require specific rating systems to be used. In other cases, they require certain codes or rating systems to be used.
Another problem for designers and engineers trying to implement specific rating systems is that the market is often unprepared for a new rating system so there can be a significant first-cost premium. For instance, LEED and BREEAM are very well known in the industry so architects, manufacturers, and contractors have included those requirements into their processes — that means there is no cost increase. However, newer rating systems have a learning curve or require product formulation changes that the owner eventually pays for.
Finally, unsophisticated building operations teams might not be prepared to run new or advanced building systems. Even state-of-the-art mechanical systems can use more energy if run improperly. This is solvable with proper education and training, but it comes at a cost to the owner.
Popular sustainability programs can be easily adopted, while some of the lesser-know systems need strong stakeholder support at the owner level. Either way, given our ever-increasing global population and limited natural resources, it behooves us to develop buildings that are energy efficient and healthy. It will improve our lives and the lives for many generations to come.
Zero Energy Buildings
It is becoming increasingly common for building owners to aspire for their properties to use no net energy, meaning they are efficient enough to generate all of the energy they need on site. However, a lot of different parties have created their own definitions for what it means to be zero energy.
In 2015, the U.S. Department of Energy and the National Institute of Building Sciences developed A Common Definition for Zero Energy Buildings to help align the various stakeholder groups when discussing zero energy design and operation. According to Energy.gov,
Generally speaking, a zero energy building produces enough renewable energy to meet its own annual energy consumption requirements, thereby reducing the use of nonrenewable energy in the building sector. This definition also applies to campuses, portfolios, and communities.
Read the full text of A Common Definition for Zero Energy Buildings at Energy.gov.
Review of Green Building Rating Systems
Owners and design teams have a lot of options when selecting a rating system. Most people know the "big three" systems: LEED, BREEAM, and ENERGY STAR, but there are others that cater to different project types or team goals.
For instance, holistic occupant health is more popular today than in the past. The big three have incorporated aspects of occupant health, but other systems may be more rigorous. In addition, some critics claim that the most popular programs are focused on being "less bad" rather than repairing the damage we have done since the industrial revolution.
We recommend that you start with your city and state requirements to determine if you need to use a rating system for zoning or building permit applications. From there, you can read the reviews below to determine which program aligns with your client's goals.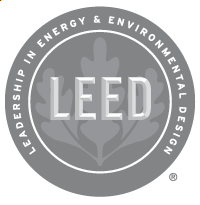 LEED - Leadership in Energy and Environmental Design
LEED®, which stands for Leadership in Energy and Environmental Design, is one of the major sustainability rating systems. While most LEED Certified projects are in the United States, the program is also well known internationally. The LEED Rating System started in 1998 as a pilot program and has grown to certify tens of thousands of projects.
Many cities around the United States have started mandating LEED Certification for certain projects in their jurisdiction. This is generally handled through the zoning or building permit application process.
Projects fall into one of the following Rating Systems:
LEED BD+C (Building Design and Construction) is for new construction or major renovations of commercial buildings, schools, retail, hospitality, healthcare, data centers, and warehouses. Residential buildings over six stories fall into the LEED BD+C Rating System. Projects can be fully built out or can be core and shell for future tenants.
LEED ID+C (Interior Design and Construction) covers commercial interior projects, commonly referred to as tenant fit-outs. These can be offices, retail, healthcare, or hospitality projects within a larger core and shell building.
LEED O+M (Building Operations and Maintenance) is a rating system for existing buildings where there is little to no construction work.
LEED ND (Neighborhood Development) allows land development projects to achieve certification. Developments can be residential, commercial, industrial, or a mix.
LEED Homes applies to single family homes as well as multi-family or mid-rise residential buildings that are six stories or less.
Each Rating System has specific Credit Categories that match the scope of those types of projects. Each category includes Prerequisites that must be completed as well as a series of optional Credits that project teams choose based on the project scope and location. Credits are weighted based on the impact they have on the environment and occupant health.
Project teams gather project documentation throughout both the design and construction phases then submit via an online portal. Both the design team and the construction team have documentation responsibilities throughout the process. Green Business Certification, Inc. provides rigorous third-party verification of all documentation.
Certification is awarded based on a project achieving all Prerequisite credits as well as the number of the 100 optional Credits achieved. Certification levels are: Certified (40-49 points), Silver (50-59 points), Gold (60-79 points), and Platinum (80+ points).
Professionals can obtain credentials to demonstrate their knowledge of LEED and commitment to sustainable design and construction. The first level credential is called the LEED Green Associate, which identifies that you have competency in green building principles that apply to LEED. You may then elect to get the advanced LEED AP with Specialty credential for a specific Rating System.
Credential candidates must pass a 200-question multiple-choice exam for each level. USGBC provides some study material on their website, but many candidates use more comprehensive study materials from other providers. Be sure to check out our reviews of LEED Green Associate study guides as well as LEED AP study guides.
LEED is developed by the U.S. Green Building Council (USGBC). Third-party certifications and professional credentialing are provided by Green Business Certification, Inc. (GBCI).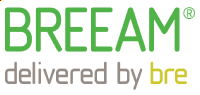 BREEAM
BREEAM®, which stands for Building Research Establishment Environmental Assessment Method, is a leading international sustainability standard and rating system. It is one of the largest and longest-running systems, having issued more than 590,000 certificates since being established in 1990.
BREEAM is a framework with a series of standards for different project types in various climate regions or countries. Technical Standards are available for the following types of projects: new construction, existing buildings (In-Use), refurbishment and fit-out, communities, and infrastructure. Homes are eligible for the BREEAM Home Quality Mark program.
There are ten categories that BREEAM focuses on, but they all relate to low-impact and ecologically sustainable design and construction. The ten categories are:
Energy
Water
Pollution
Waste
Materials
Land Use
Transport
Health and Wellbeing
Management
Innovation
Evaluation for each Category includes multiple Assessment Issues, which are weighted based on their environmental impact. Points are assigned when a project meets benchmarks or targets for the different Assessment Issues, and the tally of points across all Categories determines the certification level.
Projects are certified by independent third-party assessors and earn from one to six stars based on performance across the categories above: Acceptable, Pass, Good, Very Good, Excellent, or Outstanding.
Most projects in the United States use the International versions of the BREEAM Technical Standards. However, existing buildings in the U.S. should use the BREEAM USA In-Use standard.
There are a number of professional credentials available. BREEAM Associates take an online course and and pass a short exam before receiving their certificate. The next level or credential is the BREEAM Accredited Professional (also referred to as an Advisory Professional), which requires an in-person class, a longer exam, and annual credential maintenance requirements.
BREEAM Assessors are licensed to provide third-party assessments of projects. They must complete a rigorous training course, pass the associated exam, carry indemnity insurance, and maintain their license through regular Quality Assurance audits of submitted assessments.
BREEAM is developed and managed by the Building Research Establishment, an international company with their main office in the UK.
ENERGY STAR Certification
ENERGY STAR® is a U.S. Government backed program that helps identify energy efficient products, buildings, and plants. The program was established in 1992 and is managed by the U.S. Environmental Protection Agency and the U.S. Department of Energy.
While most people know ENERGY STAR for their electronics and appliance ratings, there are also programs for existing buildings and commercial new construction. As you'll see below, full certification is reserved for buildings that can demonstrate energy usage values over an entire year, but there is a path for projects in the design phase.
New commercial projects are Designed to Earn the ENERGY STAR by following a six-step process, which should enable most projects to receive full certification one year after occupancy:
Include ENERGY STAR requirements in both the the RFP for design teams and the project specification. Note that commissioning is a required step and should be included in the specifications.
Establish energy savings criteria by indicating either a desired ENERGY STAR score or an energy reduction over the national median.
The design team models expected energy use and submits an application to the EPA.
Once approved, the project can display the "Designed to Earn the ENERGY STAR" label on project marketing materials, including on the ENERGY STAR website.
Commission the building and ensure that the operations and maintenance teams are trained to maintain energy efficiency during operations.
Track energy and water use performance for 12 months and submit the data to the online Portfolio Manager.
ENERGY STAR Certification can be achieved after the building has been occupied for at least 12 months. Certification requires the owner to enter at least one year of utility bill data into the Portfolio Manager, which then calculates an ENERGY STAR score from 1 to 100, with 50 representing the median energy usage for new buildings. Projects that obtain at least 75 points have earned the ENERGY STAR.
Certification is given on an annual basis for the preceding year so it is important that the operations and maintenance teams continue to manage energy use and update the Portfolio Manager. All data must be verified by a third-party licensed Professional Engineer or Registered Architect.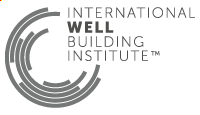 WELL Building Standard
The WELL Building StandardTM is a rating system developed by the International WELL Building InstituteTM (IWBI) that focuses on occupant health and wellness. The first version of the standard was released in 2014 and continues to be updated as our knowledge and technologies advance.
All types of projects are supported and there is a special certification, called WELL Core, for core and shell projects where the tenant spaces will not initially be developed. In addition, the IWBI is developing the WELL Community Standard.
WELL includes 10 core concepts plus an innovation component. All of these concepts focus on improving upon our health and well being as we occupy communities and buildings. The 10 WELL Concepts are:
Air
Water
Light
Sound
Thermal Comfort
Nourishment
Movement
Mind
Community
Materials
Projects are scored on a 100-point scale and must achieve at least two points for each Concept. In addition, each Concept includes Preconditions that must be met by all projects in order to achieve certification. Certification levels depend on the points achieved: WELL Certification Silver (50 Points), WELL Certification Gold (60 Points), and WELL Certification Platinum (80 Points).
In addition, WELL Core projects can achieve 40 points to be WELL Certified Bronze, but this level is not available to non-Core projects.
Projects must recertify every three years. Recertification requires annual submissions to update project status and ensure that all WELL requirements have been properly maintained. Part of the annual submission includes data from required ongoing monitoring of environmental parameters, either through sensors or building systems data collection.
The professional credential associated with the WELL Building Standard is called the WELL Accredited Professional or WELL AP. Achieving this credential demonstrates a commitment to advancing human health and wellness in our built environment. Candidates learn about how to develop healthy projects, understand the details for WELL Certification, and must pass an exam that includes 100 multiple-choice questions. We have a separate article with information about the exam and WELL AP Study Guide Reviews.
The WELL Certification and professional accreditation processes are administered by Green Business Certification Inc., which operates as a third-party.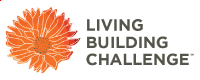 Living Building Challenge
The Living Building ChallengeTM (LBC) is managed and operated by the International Living Future InstituteTM (ILFI). The ILFI manages several other programs including the Living Community Challenge, the Living Product Challenge, the Just label for socially aware companies, and the Declare label program for transparency in building material ingredients.
The Living Building Challenge is a constantly evolving sustainability and health certification that focuses on making our built environment better in a holistic way, or as they say, "a philosophy, certification, and advocacy tool for projects to move beyond merely being less bad and to become truly regenerative."
The Challenge requires projects to demonstrate achievement rather than model anticipated performance. Therefore, all projects are audited 12 months after completion so that full compliance can be confirmed.
There are seven areas of focus, which the LBC refers to as Petals:
Materials
Water
Energy
Place
Health & Happiness
Equity
Beauty
Each Petal includes a number of specific Imperatives that must be met, with a total of 20 total Imperatives.
Projects fall into one of four typologies: New Building, Existing Building, Interior, or Landscape/Infrastructure. Required compliance with the Imperatives depends on the project Typology so there is flexibility to account for project type and region.
A key feature of the Living Building Challenge is market advocacy. Some Imperatives are hard to meet given current market restrictions. Therefore, exceptions are built into the program. When a market restriction is identified and confirmed by the team, the ILFI educates the manufacturer or agency and helps them identify ways to improve their products to comply with the program in the future.
Professionals can earn Living Future Accreditation to demonstrate their knowledge and commitment to the ILFI's mission. Accreditation requires completion of an education program followed by continuing education every two years.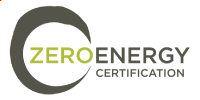 Zero Energy Certification
Developed and administered by the International Living Futures InstituteTM, Zero Energy Certification requires:
One hundred percent of the building's energy needs on a net annual basis must be supplied by on-site renewable energy. No combustion is allowed.
There are exception paths for using off-site renewables and on-site combustion in certain circumstances.
Certification is rigorous in that it is based on actual performance as measured over a 12-month period instead of using energy modeling, which is essentially an estimate.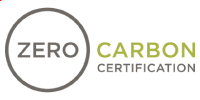 Zero Carbon Certification
The International Living FuturesTM Institute has also developed a Zero Carbon Certification, a more stringent certification that goes beyond Zero Energy Certification to also require projects to purchase one-time offsets to account for the total embodied carbon in all of the building materials.

Green Globes Building Certification
Green Globes® is administered by the Green Building Initiative (GBI). The certification system was developed in 2004 as a way to bring the BREEAM standards to the United States in an easy to manage way. GBI then developed Green Globes into an ANSI approved standard, ANSI/GBI 01: Green Building Assessment Protocol for Commercial Buildings. The GBI advertises a streamlined process where administrative support of the submission requires less than half the time of other popular rating systems and at a lower cost.
There are three main categories of certification: New Construction, Existing Buildings, and Sustainable Interiors. Within those category there are paths designed to accommodate specific projects like core and shell or multifamily.
Owners, along with their design team, select from a menu of 1,000 available points, none of which are required so the team is able to customize their certification to their particular desire. Certification levels are dictated on the percentage of total points achieved and points are awarded a number of Green Globes.
One Green Globe: 35% to 54% (350-549 points) - Commitment
Two Green Globes: 55% to 69% (550-699 points) - Excellent progress
Three Green Globes: 70% to 84% (700-849 points) - Leadership
Four Green Globes: 85% to 100% (850-1000 points) - National Leadership and Excellence
New Construction points are divided into seven Environmental Assessment Areas: Project Management, Energy, Water, Materials & Resources, Emissions, Indoor Environment, and Site. The assessment areas vary slightly for Existing Buildings and Sustainable Interiors.
The process starts with an online survey. Then, each project is assigned a third-party Assessor who performs a few periodic reviews of project documentation. The project team updates the survey as the project progresses and the Assessor visits the site to confirm the building has incorporated all documented components. Finally, the GBI confirms the project's recognition level.
The GBI offers three professional certification credentials: Green Globes Professional (GGP), Green Globes Assessor (GGA), and Federal Guiding Principles Compliance Professional (GPCP). The certification fees are higher than other programs, but the fees include membership dues, certification manuals, online training, and continuing education.

National Green Building Standard (ICC 700)
The ICC 700 National Green Building StandardTM was first developed in 2008 by the National Association of Home Builders (NAHB) and the International Code Council (ICC). It is officially recognized by the American National Standards Institute (ANSI) as a green building standard for residential construction of all Group R (residential) and Group I-1 (assisted living, residential care, and group home) occupancies.
The standard focuses on six major areas within residential projects: Lot Design and Development, Resource Efficiency, Water Efficiency, Energy Efficiency, Indoor Environmental Quality, and Building Operations and Maintenance.
Certification is managed through Home Innovation Research Labs and projects can achieve one of four levels of certification: Bronze, Silver, Gold, and Emerald. Home Innovation Research Labs also pre-approves building products that contribute toward project certification. Certification fees are relatively modest at a few hundred dollars per home.
There are two professional credentials for the NGBS:
The Certified Green Professional (CGP) designation is for builders, remodelers, or other professionals who incorporate green building methods in their projects. You can earn your CGP credential online.
NGBS Green Verifiers are accredited to complete project verifications for NGBS homes. Check with the NGBS Green Verifier Candidate Handbook for more information.
Fitwel
Fitwel® is a certification system encouraging building designs that optimize health and activity. Initially released in 2016, It was developed in a collaboration between the U.S. Centers for Disease Control and Prevention along with the U.S. General Services Administration. The Center for Active Design is the licensed operator of the Fitwel Standard and associated certification process.
Both new and existing buildings are eligible. New buildings can obtain either Design Certification or Built Certification. Certification involves addressing strategies that fall into Fitwel's seven Health Impact Categories:
Community Health
Reducing Morbidity and Absenteeism
Supporting Social Equity for Vulnerable Populations
Instilling Feelings of Well-Being
Enhancing Access to Healthy Foods
Promoting Occupant Safety
Increasing Physical Activity
Buildings are awarded a star rating based on number of strategies achieved: Fitwel One Star (90-104 points), Fitwel Two Stars (105-124 points), or Fitwel Three Stars (125-144 points).
Certifications are awarded for three years and must be renewed to ensure that owners continue to maintain the health strategies.
Fitwel Champions are companies that commit to using the standards on their portfolio of properties. Eligibility requires applying the standard to at least six projects annually.
The credential for the program is the Fitwel Ambassador. Ambassadors are professionals who are well versed in the Fitwel health strategies and can apply them to design projects. You can become an Ambassador by taking an online video course and passing a short exam.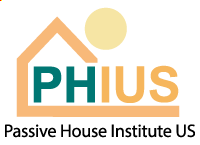 Passive House Institute US (PHIUS+)
The PHIUS+ Certification Program provides certification for North American projects that meet the Passive Building Standard. The goal of passive building is to increase human comfort and energy efficiency through super-insulation, airtight enclosures, high-performance doors and windows, heat-recovery ventilation, and minimal space conditioning systems.
Passive House is a misnomer since it applies to all building types, not just residential.
PHIUS+ is different from its European counterpart in that it was developed to be climate specific given the wide range of climates across the United States. Certification requires a very thorough design verification process followed by an on-site QA/QC program.
Certification is administered by the Passive House Institute US, Inc., which maintains an alliance with the Passivhaus Institut in Germany. The Passive House Alliance is the membership organization that companies and professionals can join to support the passive building movement.
Certified Passive House Consultants (CPHC) are qualified to design and engineer passive projects that meet certification requirements. PHIUS Certified Builders have been trained in the construction practices to achieve certification. PHIUS+ Raters and Verifiers serve as third-party QA/QC professionals who validate that projects comply with the rigorous standards.
BOMA 360 Performance Program
The BOMA 360 Performance Program®, established in 2009, is a green certification focusing on building operations and tenant satisfaction. The BOMA 360 designation indicates that a commercial or industrial building outperforms the baseline in the following six categories:
Building operations and management
Life safety, security and risk management
Training and education
Energy
Environmental/sustainability
Tenant relations/community involvement
While the six categories include occupant health and environmental sustainability measures, BOMA 360 goes beyond that to ensure that projects are financially secure, are run by educated individuals, and address the needs of tenants.
The certification process is relatively simple. There are minimum performance and documentation requirements for each of the six categories listed above, which get uploaded to an online portal for review. Once officially recognized, projects must renew by updating the documentation every three years.
The BOMA 360 Performance Program has been validated by, and contributes to, the GRESB program requirements.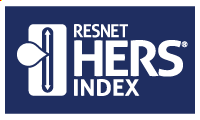 HERS - Home Energy Rating System Index
The Home Energy Rating System Index (HERS®) measures the energy efficiency of single-family homes and compares it to the 2006 International Energy Conservation Code.
Homes that meet the 2006 IECC criteria score 100, which is considered the baseline for new homes. A score above 100 indicates the home performs worse than the 2006 IECC, while a score below 100 indicates better energy performance — a lower score is better.
There are two professional credentials related to the HERS Index. Certified Home Energy Raters are qualified to evaluate the energy features of a home and can make recommendations for improvements. The Energy Smart Builder designation indicates that a builder has agreed to have all of their homes rated through the HERS Index.
The program is operated by the non-profit Residential Energy Services Network (RESNET).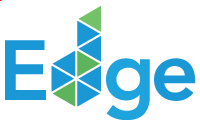 EDGE - Excellence in Design for Greater Efficiencies
EDGE is a sustainable rating system for international developing markets that was created by the International Finance Corporation in 2014. The goal of the program is to simplify the green building certification process with a standard that addresses construction practices and economies around the globe.
Certified projects must achieve a 20% reduction in energy, water, and material embodied carbon compared to a conventional building in the same locale. There are also Edge Advanced certifications and the Zero Carbon program for exemplary achievement.
The professional credential is the EDGE Expert. Candidates must demonstrate industry experience, complete EDGE training, and pass an exam. EDGE Auditors are Experts who have taken additional training so they can independently verify projects for certification.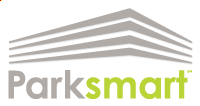 Parksmart
Parksmart is a sustainable certification program for garages that is run by GBCI. It was formerly called Green Garage Certification. Both standalone garages and those incorporated into a building are eligible. There are certification paths for existing garages as well as new projects.

GRESB
GRESB provides building assessments for real estate professionals to evaluate an investment against Environmental, Social, and Governance (ESG) benchmarks. This allows investors and developers to understand how their projects align with the sustainability initiatives of their peers, both locally and internationally. The overarching goal of the program is to create a more sustainable real estate market.
GRESB was established in 2009 and is an independent subsidiary of GBCI.

Investor Ready Energy Efficiency
The Investor Ready Energy EfficiencyTM certification program gives developers and financial underwriters confidence that their energy efficiency retrofit project meets current engineering best-practices and that energy savings calculations are reasonable.
The program was developed by the Investor Confidence Project and applies to commercial and multi-family buildings. Projects are reviewed by ICP Quality Assurance Assessors and the program is overseen by Green Business Certification Inc.

RELi
The RELi rating system gives project teams, owners, and insurers the tools to develop resilient buildings and communities. Certified projects are prepared to withstand major hazardous events and can maintain critical services during long-term power, water, or fuel outages. Certification is administered by GBCI and the program has significant overlap with LEED resiliency criteria.
Sustainable SITES Initiative
The Sustainable SITES Initiative® is a program and rating system for the design, development, and maintenance of sustainable landscapes. The program encourages protection of our natural ecosystems while enhancing our cities and communities.
Successful projects demonstrate how they reduce water use, reduce stormwater runoff to help mitigate floods, reduce energy use, improve air quality, and improve wildlife habitats, all while giving us better spaces for outdoor recreation. Projects are awarded different levels of certification (Certified, Silver, Gold, Platinum) based on the level of achievement.
The program was developed by the American Society of Landscape Architects (ASLA), the United States Botanic Garden, and The Lady Bird Johnson Wildflower Center at The University of Texas at Austin. Version 1 of the system was released in 2009 and GBCI has owned and operated the program since 2015 so there is an alignment with the LEED rating systems.
Processionals can become a SITES Accredited Professional by passing the SITES AP exam. Accredited professionals must maintain their credential through ongoing continuing education requirements.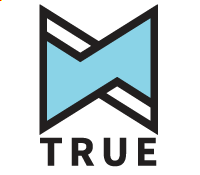 Total Resource Use and Efficiency (TRUE)
The goal of TRUE certified projects is to divert all solid waste from traditional landfills or incinerators. The program applies to operating facilities that can demonstrate at least 90% diversion rate over a 12-month period.
TRUE is administered by GBCI.
Green Building Codes
The health and sustainability of construction projects increases significantly when municipalities enact legislation requiring the use of green building codes or standards. Legislation requires owners and developers to build sustainably instead of it being a decision that can be affected by first costs. A number of organizations have developed model codes that allow municipalities to easily require sustainable construction.
International Green Construction Code (IgCC)
The International Code Council has developed the International Green Construction Code (IgCC) to provide "clear and specific requirements with provisions that promote safe and sustainable construction in an integrated fashion with the ICC Family of Codes." A number of organizations worked with the ICC to develop the code, including the AIA, ASHRAE, USGBC, and IES.
Version 1 of the IgCC was published in 2009. It is updated every three years so you should check with your local state or city to confirm whether it is enforced and what version is used.
International Energy Conservation Code (IECC)
The International Code Council also publishes the International Energy Conservation Code or IECC. The intent of the document is to establish minimum requirements for energy-efficient buildings, while still leaving room to use new technologies and advancements. The IECC has a set of criteria for commercial buildings and a separate set for low-rise residential projects.
The IECC was first published in 1998 and is updated every three years. Be sure to check with your local jurisdiction to make sure you are using the correct version.
Municipal Green Building Codes
A number of municipalities at the state and local levels require projects to meet their specific sustainability codes. For instance, California has the statewide CALGreen code, the County of Los Angeles has their Title 31 Green Building Standards Code, and New York City requires projects to be LEED Certified.
Given the range of criteria and ever changing legislation, it is impossible for us to list every jurisdiction and relevant suitability code. Please be sure to check with your local building authority before starting a project.
Zero Code
Zero CodeTM is an energy standard that can be adopted as a code by jurisdictions around the world. Developed by Architecture 2030, it provides language that jurisdictions can use to define energy efficiency requirements and renewable energy sources that ensure new buildings are "zero-net-carbon."
Complying with the Zero Code, thus being zero-net-carbon, requires project teams to start by meeting or exceeding the requirements of ASHRAE Standard 90.1-2016. Then, projects must use on-site renewable energy or purchase off-site renewables for their remaining energy usage.
Green Building Standards
There are a number of reference standards that green rating systems reference. In addition to the codes listed above, you may be required to adhere to some of all of the following ASHRAE Standards, which are available from the ASHRAE Bookstore.
ASHRAE Standard 55 Thermal Environmental Conditions for Human Occupancy
ASHRAE Standard 62.1 Ventilation for Acceptable Indoor Air Quality
ASHRAE/IES Standard 90.1 Energy Standard for Buildings, Except Low-Rise Residential Buildings
ASHRAE/IES Standard 90.2 Energy-Efficient Design of Low-Rise Residential Buildings
ASHRAE/USGBC/IES/ICC Standard 189.1 Standard for the Design of High-Performance Green Buildings Except Low-Rise Residential Buildings