This article includes affiliate links and Archtoolbox earns from qualifying purchases. More info.
This article covers everything you need for LEED® Green Associate exam preparation, which is the first part of becoming a LEED accredited professional. We'll show you what you need to study, starting with the bare minimum and then including a few extra resources. But first, we should give you an overview of LEED. If you are already familiar with LEED, skip down to the preparation sections.
What is LEED?
LEED, which stands for Leadership in Energy & Environmental Design, is a program for certifying sustainable buildings that was developed by the U.S. Green Building Council or USGBC. Certification demonstrates that the building meets minimum green design standards. Exceeding the minimum standards will offer a project Silver, Gold, or Platinum certification depending on how far the building goes beyond the baseline requirements.
While there are other programs for certifying sustainable buildings, LEED is the most widely used program in the United States and other countries around the world. Many architecture firms are strongly recommending or requiring LEED accreditation for their staff. In our mind, it is a required credential for all building design professionals including architects, interior designers, engineers, and construction managers.
LEED Certification vs LEED Accreditation
People often misuse the term LEED Certified. Keep in mind that only buildings can be LEED Certified. People can be LEED accredited professionals.
When studying for the exam, be sure you understand the difference and that you learn the acceptable terminology usage. (Hint: LEED GA is wrong. You should use LEED Green Associate.)
LEED Green Associate Accreditation
The LEED Green Associate accreditation is the first part of becoming a LEED Accredited Professional or LEED AP. This accreditation demonstrates that a person understands the basic concepts of green building and can apply those concepts to their work in the design and construction fields.
We believe this is the baseline credential that all professionals should have. Many firms agree and will require employees to be a LEED Green Associate at a minimum.
After achieving LEED Green Associate Accreditation, a person can then choose a specialty and take an additional exam to receive the LEED AP with specialty designation. LEED AP is beyond the scope of this article, but credentials can be obtained in building design and construction, interior design, residential design, neighborhood design, and building operations and maintenance. We have another article dedicated to preparing for your LEED AP exam.
USGBC Must Study Items - Mostly Free!
Let's start with the absolute minimum that you need to understand in order to pass the exam. Most of these are free study guides, but some require payment. Your firm probably has copies of the paid documents that you can borrow so make sure you check at work before you buy these.
First, a word of caution: you can pass the exam by only studying these USGBC documents. However, if you are going to take this route, you must be a great test taker and you have to absorb the material very well. If you are unfamiliar with LEED and have never been through the process of certifying a building, you should plan on also using a couple of practice tests to confirm your knowledge before you take the actual test. You may benefit from further study materials if those practice tests don't go well.
On to the nine critical references you need to fully understand in order to pass the exam. Yes, you need to spend time reading and understanding all nine resources - there really is no way around it.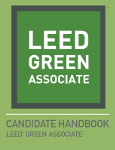 LEED Green Associate Candidate Handbook
The Candidate Handbook tells you everything you need to know about registering for and taking the exam. In addition, this publication lists the seven references below that are the primary sources for exam questions. While you probably won't be tested on the information in this PDF, you should still read through it so you know what to expect.
---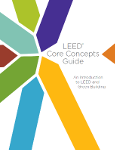 LEED Core Concepts Guide
The LEED Core Concepts Guide provides the full background on green building – the whys and hows that you need to understand. Unfortunately, it costs money, but you do need to thoroughly understand the content in this guide in order to pass the LEED Green Associate exam.
Make sure you understand the various terms in the guide so you are fluent in the sustainable language. Also, closely read the seven organizational categories included. There is also a section about the USGBC and LEED, which is important to digest.
As of April 2020, the third edition is current and costs $90 for non-members of the USGBC. Before purchasing the PDF, check to see if your office owns a copy that you can borrow. In addition, if your firm is a member of the USGBC you may qualify for the discounted price of $75.
---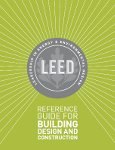 LEED v4 BD+C Reference Guide Introduction and Excerpts
You do not need to purchase or study the entire Reference Guide. However the Introduction and excerpts are important to study.
This guide leads you through the minimum program requirements to qualify for LEED certification, which are tested. In addition, the guide takes you through the categories and the basic requirements of each. You won't be tested on specific prerequisites or points, but there will be questions that ask about the concepts and definitions that apply to various prerequisites and points.
---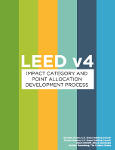 LEED v4 Impact Category and Point Allocation Process Overview
While complete word-for-word memorization is unnecessary, it is important to understand the Impact Categories and the methods used for point allocation. There will be test questions about the seven Impact Categories.
---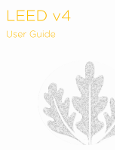 LEED v4 User Guide
This guide will revisit some of the concepts you learned about in the references above including: Impact Categories, the certification process, and selection of a rating system.
It is worth skimming through the table of changes between LEED 2009 and LEED v4 to pick up on important concepts, but there is no compelling need to memorize them.
---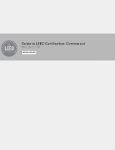 Guide to LEED Certification: Commercial
It is important to understand the certification process from registering, applying, reviewing, to certification. Understand the process for individual projects and campus projects.
---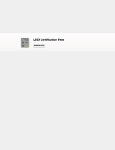 LEED Certification Fees
This one is pretty self-explanatory, but you should understand the fees associated with LEED certification — when they are due and how they are calculated.
---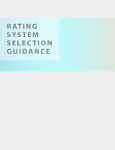 LEED v4 Rating System Selection Guidance
At this point, you should already understand how to select a LEED rating system. However, it is a good idea to review the process so you fully understand the 40/60 rule and the various ways that the different rating systems break down.
---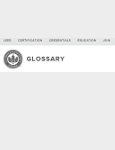 LEED v4 Glossary
This is a great resource for learning all the vocabulary and refreshing you on things you miss when you read through the various references. (Hint: Make sure you know the various water types.)
Best LEED Green Associate Exam Study Guides
We aren't a believer in telling you what THE BEST study guide on the market is since everyone learns in a different manner. Instead, we would rather review some of the better study guides out there and then tell you what is in them so you can select that one that matches your preferences. At the end of the day, it doesn't matter to us what guides you use — we just want you to pass!
Here are the exam prep materials we've had a look at and we think you will find them useful. None of these are paid placements, but we are an affiliate for some and earn from qualifying purchases.
LEED Green Associate + LEED AP Study Guide Packages
We recommend buying a combination package if you intend to take the LEED Green Associate exam and then take a LEED AP with specialty exam soon after. You'll get a better overall price.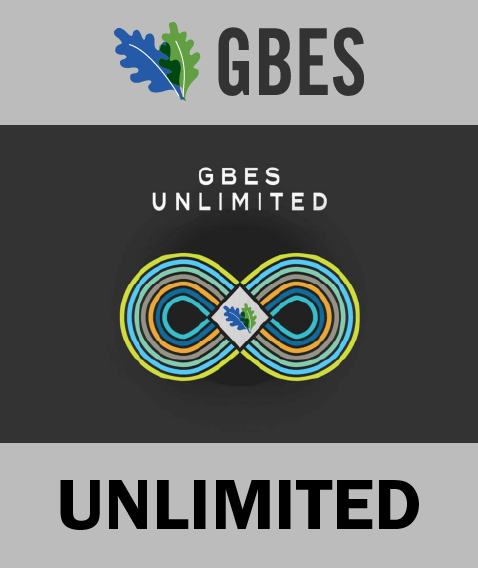 GBES Unlimited
GBES Unlimited has everything you need to pass both the LEED Green Associate Exam as well as any (and all) of the LEED AP with Specialty exams. The package also has guides for the SITES AP and WELL AP Exams. Finally, you'll get a year of access to their continuing education library.
Credentials Covered: LEED AP BD+C, LEED AP ID+C, LEED AP Homes, LEED AP ND, LEED AP O+M, WELL AP, SITES AP
Includes: Exam Simulator with hundreds of questions, PDF Study Guides, PDF Study Sheets, hundreds of flashcards, Webinars, Study Calls, and more.
Access Duration: 12 months
Price: $247
---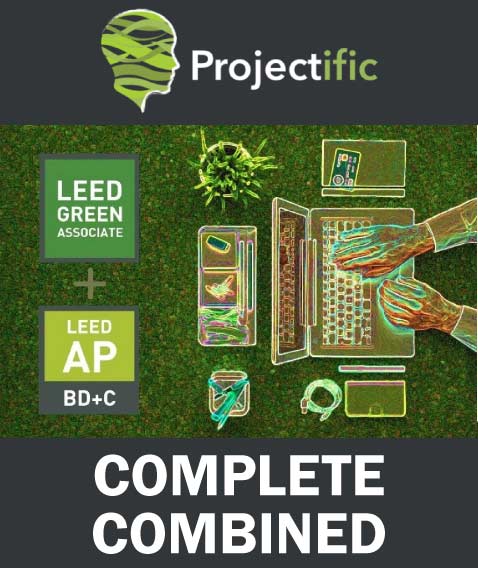 Projectific LEED v4 Combined Complete Exam Prep
Projectific's Combined Complete Exam Prep package has everything you need to pass both the LEED Green Associate and LEED AP BD+C exams for one price. Obviously, this is best if you will get your BD+C specialty within a year. It includes an 18-hour online lecture course in webinar slideshow format and the well known printed study guide by Togay Koralturk.
Includes: 18-hour online video course, paperback study guide, 400 question LEED Green Associate online practice test, 300 question LEED AP BD+C online practice test, Study Sheets (condensed study guide) for both exams.
Access Duration: 365 days
Price: $325
LEED Green Associate Specific Packages
The following study materials are good options if you plan to stop after you get your LEED Green Associate credential.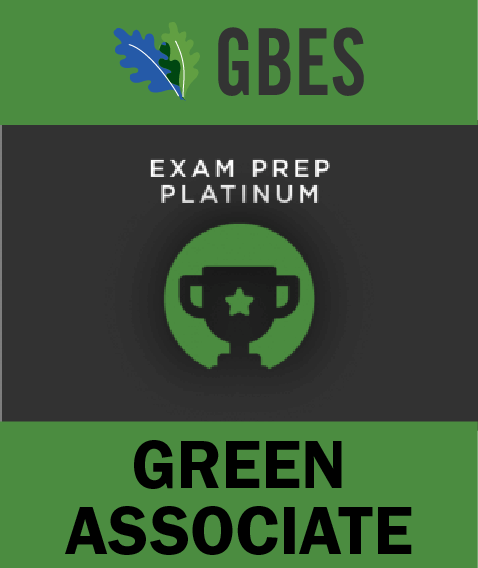 GBES LEED Green Associate Platinum Pack
GBES's LEED Green Associate Platinum Pack has all the materials you need to pass your exam on the first try. Keep in mind that this package only covers the Green Associate exam so the Unlimited package above might be a better deal if you plan to take a LEED AP exam.
Includes: Exam Simulator with 600 questions, PDF Study Guide, PDF Study Sheets, 400 flashcards, and 9 hours of on-demand webinars.
Access Duration: 120 Days
Price: $229
Other Green Associate Options from GBES:
---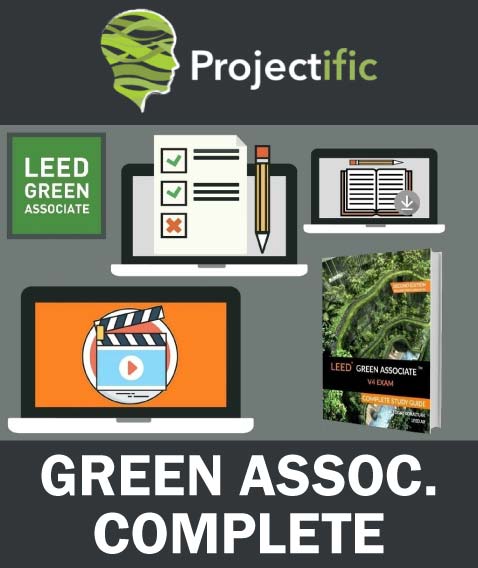 Projectific LEED Green Associate v4 Complete Exam Prep
Projectific's LEED Green Associate prep package includes everything you need to pass the Green Associate exam. If you plan to take the BD+C AP exam after passing the Green Associate exam, then we recommend the Complete package above.
Includes: 9-hour online video course, paperback study guide, 400 question practice test, Study Sheets (condensed study guide).
Access Duration: 180 days
Price: $235
Other Green Associate Options from Projectific:
---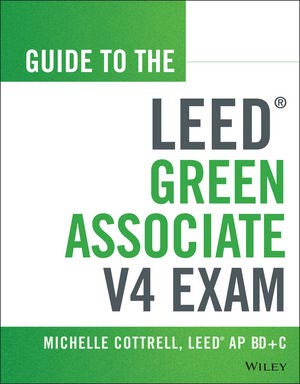 Wiley Guide to the LEED Green Associate v4 Exam
Wiley is known for their educational and architectural books so you can be confident that this study guide is well done. Written by Michelle Cottrell, the paperback book includes 256 pages of material with inline tips, suggestions for flashcards to make, and quizzes at the end of each section.
A companion website includes more information with example questions and flashcards.
---
Identify Your LEED Green Associate Credential
Congratulations! Once you pass the LEED Green Associate exam, you can immediately add this information to your business cards, resume, and LinkedIn profile. However, you have to follow USGBC's strict guidelines, which you can find in their Trademark Policy and Branding Guidelines.
LEED Green Associates have two options. First, you can use the official logo (either the color or black-and-white version). The second option is to use the following text after your name: LEED® Green AssociateTM. You should never use: LEED GA since that is not an official designation.
What Next?
Once you've completed the LEED Green Associate exam, you may want to become a full LEED Accredited Professional by taking one of the LEED AP with specialty exams. We have an article that reviews LEED AP study guides.
When you pass the exam, if you think of something important that was missing from this exam prep guide please let us know so we can help the next person to come here. We want to help as many people as possible because we believe sustainability is critically important to successful architecture and architectural careers.
Continuing Education Maintain Your Credential
Passing the exam is not the end of your credentialing journey. You have to maintain your credential through the USGBC's Credential Maintenance Program and you are required to renew every two years by paying a fee. You can find full details in USGBC's CMP document.
In addition to the fee, LEED Green Associates must complete 15 total continuing education hours. Of those hours, 3 hours must be LEED-specific and the remaining 12 hours can be general CE hours as approved by GBCI. All hours are logged in your USGBC Account and must be completed within a two-year period.
There are a few ways to get your hours. Many offices host lunch-and-learns that usually qualify. Or you can participate in online learning — a few free and paid options are listed below:
Hanley Wood University (Free)
BNP Media (Free)
GreenCE (Free and Paid) - Green CE by Ron Blank & Associates is an official USGBC Education Partner. They offer individual courses as well as bundles.
USGBC Education Subscription (Paid) — Check whether your firm has a USGBC membership since it may provide you with CE hours or a reduced cost.
GBES Continuing Education (Paid) - GBES is an official USGBC Education Partner. They offer unlimited CE annual subscriptions as well as bundled packages from 3-hours up to 60-hours.
LEED® Green AssociateTM, the LEED Green Associate logos, LEED AP®, and the LEED AP logos are trademarks owned by the U.S. Green Building Council® and are used with permission. Archtoolbox is not affiliated with the U.S. Green Building Council® or Green Business Certification Inc.TM and does not administer the LEED AP®/LEED® Green AssociateTM program. USGBC and GBCI do not endorse or recommend the products or services offered/recommended by Archtoolbox.