This article includes affiliate links and Archtoolbox earns from qualifying purchases. More info.
The WELL Building StandardTM is a sustainability rating system that focuses on occupant health and wellness. It is developed and maintained by the International WELL Building InstituteTM (IWBI). We have another article discussing other green building certification and rating systems.
The WELL Building Standard was initially released in 2014 and is continually updated to reflect emerging best practices for constructing buildings that are healthier for occupants. As of early 2021, the current version is WELL v2. There are 10 concepts covered by the WELL Standard:
Air - covering indoor air quality.
Water - addresses drinking water quality, hygiene support, and non-potable water management.
Nourishment - encourages offering healthy food choices.
Light - promotes natural light exposure and healthy artificial lighting conditions.
Movement - encourages physical activity for occupants.
Thermal Comfort - covers HVAC designs that allow for personal thermal preferences.
Sound - helps improve occupant experience through control of indoor acoustics.
Materials - encourages the use of building materials that reduce human exposure to pollutants and contaminants, which can negatively affect our health.
Mind - addresses cognitive and emotional well-being through building design.
Community - promotes an inclusive and diverse community by supporting the range of people who use our buildings.
Innovation - allows for novel approaches and experimentation with new features of the WELL Standard.
Overview of WELL Accreditation
WELL Accredited Professionals (WELL AP) are people in the design and construction fields who have demonstrated expertise in the WELL Building Standard. The credential is available after a person has passed the WELL AP exam.
The process to become accredited is fairly simple. You gather information and resources to learn about the Standard, prepare for the exam through rigorous study, and then pass an exam online or in a testing center. The WELL website provides a very detailed roadmap about the exam.
The exam includes 100 multiple choice questions that must be answered during the two hour test period. As of early 2021, the exam costs $299 for professionals and $99 for students, but be sure to review current pricing at the WELL website. The cost of the test includes the WELL AP Handbook and a set of core study resources. You receive immediate test results at the end of your exam.
Maintaining the WELL AP credential requires continuing education where you take classes, work on projects, author articles on the topic, etc. You need to accomplish 30 hours of continuing education every two years and log them into the WELL online system.
Accreditation is different from Certification. WELL Certification is for buildings that have demonstrated that the project meets WELL Building Standards for occupant health. Accreditation is a credential for people who work on WELL projects.
Now that we have provided an overview of the exam and ongoing maintenance requirements, let's look into WELL study guides and other exam prep materials.
WELL Resources (Must Study)
The WELL AP Candidate Handbook includes a list of items to study. This is absolutely critical and many people skip these resources and just purchase a commercial study guide. Theoretically, you can just study these materials and pass the test. Of course, the commercial study guides help you better understand the material so they do have value.
Be sure to check out the WELL accreditation roadmap, which is occasionally updated with new suggested study materials.
WELL Building Standard - As of September 20, 2021, the exam is based on the WELL Building Standard v2.
WELL Certification Guidebook - The Q3-Q4 2020 version is the most recent version used for the exam.
WELL Portfolio Guidebook - This is a core resource for those taking the new exam starting on September 20, 2021. Download the WELL Portfolio Guidebook Q4 2020.
WELL Performance Verification Guidebook - This is another new resource for exam participants who test starting on September 20, 2021. Download the WELL Performance Verification Guidebook Q4 2020.
Best WELL AP Study Guides
Some of the links below are affiliate links and we may earn a small commission from qualifying purchases. There is no additional cost to you.
As we say in all of our study guide reviews, there is no such thing as the Best WELL AP Study Guide. Every one of us learns differently so we don't label anything as "the best". Instead, we try to help you understand the differences so you can select the product that best meets your study preferences and test-taking style. What works for us, may not work for you.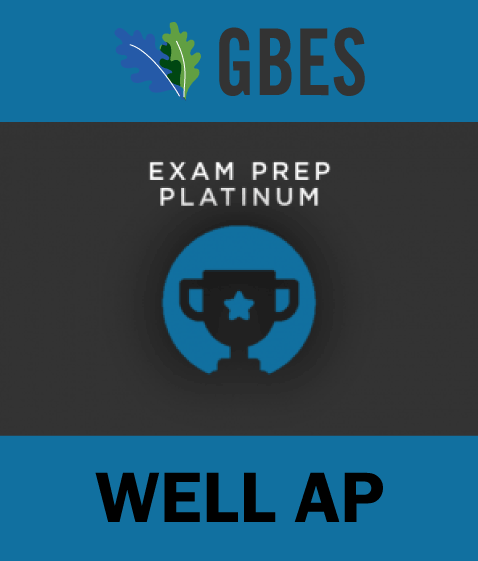 GBES WELL AP Exam Prep Platinum
GBES is one of the most well known exam prep resources for all things sustainability. They offer a number of options if you are looking to pass the WELL exam.
Their WELL AP Exam Prep Platinum bundle includes a five hour video course that you can watch on demand. Plus they have bundled their flashcards and practice tests so you can enhance your understanding of the content while checking your proficiency.
We recommend this bundle if you learn best through video courses, but need flashcards to assist with recall for important facts and figures. Everyone should make use of the practice tests since we found them to be very similar to the real exam in terms of types of questions and content.
Includes: 5 hour on demand video course, exam simulator with 400 test questions, 200 flashcards that can be printed or reviewed online.
Access Duration: 120 days.
Price: $175
Other WELL AP Options from GBES:
---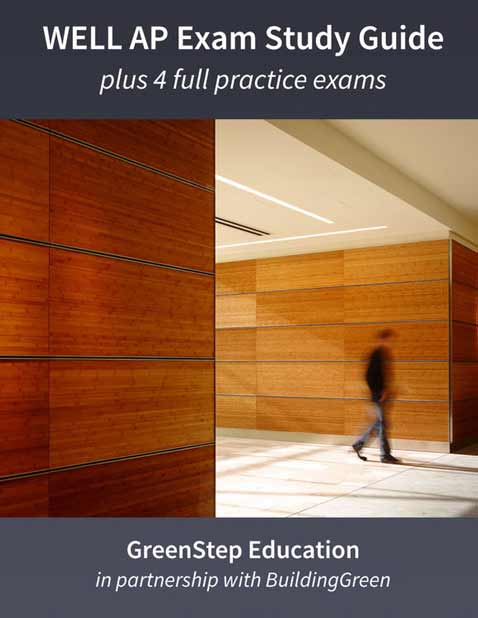 GreenStep WELL AP Exam Study Guide and Practice Exams
GreenStep Education, in partnership with BuildingGreen.com, has a study guide and practice exam bundle that is great for people who prefer to study written materials. Their 82 page study guide helps explain the WELL materials so it is to be used in addition to the WELL materials mentioned above (do not use this in place of studying that material.)
Includes: 82 page PDF study guide, exam simulator with 400 questions, 4 study matrix sheets
Price: $149
---

GBRI All-Inclusive WELL AP Exam Preparation
GBRI provides test prep materials covering LEED and WELL. They have a number of different packages that allow you to customize based on your needs.
Their All-Inclusive package includes everything you need to pass the exam, including their 5-week roadmap. The program starts with on-demand video presentations, which are also available as audio MP3s. They also provide a PDF Study Guide for those who prefer written material. Downloadable memory charts serve as overviews for easy recall. Finally, they have five complete mock exams so you can test your knowledge before heading to the test center.
GBRI is offering a limited time scholarship for those who need financial assistance to purchase exam prep materials.
Includes: Study Guide, On-Demand Study Modules, MP3s of the study modules, Practice Quiz Questions, Memory Charts, Exam Simulator with 5 practice exams.
Access Duration: 1 year
Price: $149
Other WELL AP Options from GBRI:
Identifying Your WELL Credential
You immediately receive your results at the end of your exam. If you pass, congratulations! You can now identify yourself as a WELL® AP. You can find out more about how to display your credential in the IWBI Brand and Style Guidelines and the WELL Marketing and PR Guidelines.
WELL Credential Maintenance Program
As mentioned earlier, WELL APs must maintain their credential through 30 hours of continuing education every two years. The fee to renew your credential is $125 every two years (pricing current as of early 2021). Be sure to review the current maintenance requirements at the WELL website since they change occasionally.
Documentation of your continuing education hours is managed through the USGBC online account. Of the 30 hours you need bi-annually, 6 hours must be focused on WELL specific topics and 24 hours can be general sustainability or health hours. The general hours can overlap with other sustainability accreditation, like the LEED AP program.
WELL Continuing Education Credits
You can find continuing education opportunities at a number of places around the internet. You can also pick up hours (usually general sustainability education) at your office lunch and learns, sustainability conferences, or through local industry events. Here is a list of internet resources, some of which are paid and some are free.
Hanley Wood University (Free)
BNP Media (Free)
GreenCE (Free and Paid) — Green CE by Ron Blank & Associates is an official USGBC Education Partner. They offer individual courses as well as bundles.
GBES Continuing Education (Paid) — GBES is an official USGBC Education Partner. They offer unlimited CE annual subscriptions and bundled WELL-specific packages from 6-hours up to 30-hours.
GBRI Continuing Education (Paid) — GBRI is an official USGBC Education Partner. They offer an unlimited annual subscription and various packages.
USGBC Education Subscription (Paid) — Check whether your firm has a USGBC membership since it may provide you with CE hours or a reduced cost.
WELL Building StandardTM, WELL® AP, and the WELL® AP logo are trademarks owned by the International WELL Building InstituteTM (IWBI). Archtoolbox is not affiliated with the International WELL Building InstituteTM and does not administer the WELL® AP program. IWBI does not endorse or recommend the products or services offered/recommended by Archtoobox.