Raised access flooring (sometimes called computer access flooring) is a building solution commonly employed in applications where an owner or lease holder would like to provide a means of routing building communication, electrical or climate control services in a way that provides for a clean aesthetic and facilitates easy reconfiguration. Raised access flooring provides a simple, rapidly-installed and flexible means of achieving this goal for a reasonable cost.
Components of Raised Access Flooring
The primary components of a raised access floor are panels, pedestals and stringers. These components are described below.

Basic Flooring Panels
Panels make up the supporting and walking surface of raised access flooring. Panels in the US are typically 24 inches square and can be constructed of steel, aluminum or reinforced concrete. They may or may not come with a specific finished covering.
Wiring Module Panels
Wiring modules are specially created panels that contain power outlets and data ports for connection to nearby equipment. Many of the units come prewired and simply need to be connected to power and data at the point of installation.
Perforated Panels
Perforated panels are used to provide airflow to and from the space under the raised floor. Conditioned air can be routed through the interstitial space instead of within ducts about the ceiling. Some panels may include dampers for adjusting the amount of open area of the perforated panel, which allows users to adjust the airflow in their specific area.
Pedestals
Pedestals are used to support the raised access flooring on the underlying concrete or steel subfloor deck via mechanical fasteners. Pedestals typically consist of steel tubes with flat plates on each end.
Stringers
Aluminum or steel stringers are used to span between pedestals below the floor and provide lateral support to the entire system. In some cases, panels may rest directly on top of stringers.
The photo below shows an installation of access flooring that is in progress. This system has concrete tiles with integrated stringers and pedestals.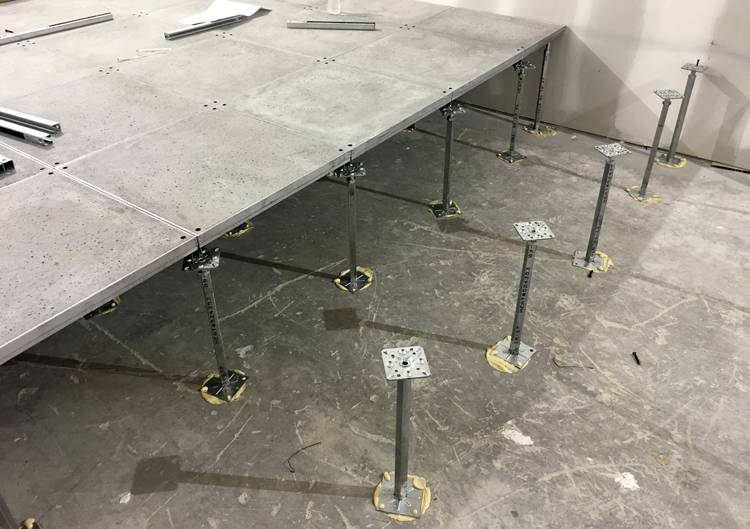 Raised Access Flooring Categories
There are two categories of raised access flooring: partial access and full access. Partial access floorscontain hatches or doors that are used to provide access to the subfloor space while the individual panels are permanently connected to the building structure. Full access floors are completely removable, and the subfloor can be accessed at any location.
Choosing a Raised Access Floor System
There are four key components to consider when specifying a raised access floor: structural grade, height, seismic requirements, and floor covering.
Structural Grade
Raised access floors are grouped into one of four structural grades: light, medium, heavy and extra heavy. The structural grade needed for any particular application depends on the activity of the end-user. Light grade floors are typically used in general office operations where no heavy equipment will be sitting on the floors. Medium grade flooring is used when heavy equipment such as photocopiers and large filing cabinets will be located in the office space; this type of flooring is also used in high-traffic areas such as walkways and break rooms. Heavy grade flooring is needed in areas where storage loads are high, where extremely high-traffic occurs, or in cases where large computer equipment is situated within the space. Extra-heavy flooring is for special applications and will usually need to be designed specifically for a particular use.
Height
To determine the height of raised access flooring above the supporting subfloor, several items must be considered.
The first is the type of services that will be required in the void space between the subfloor in the raised access flooring, such as telecommunications, fiber optics, ethernet cables, electrical services, and HVAC services. The flooring height must be able to accommodate the services from interference with one another as well as provide adequate air flow. Aside from the space needed to accommodate the services, the height will also be driven by building regulations in the jurisdiction of installation and the availability of specific components available from manufacturers.
Seismic Considerations for Raised Access Flooring
Raised floors installed in seismic zones need to be reinforced to prevent collapse in the event of an earthquake. This can be accomplished by using heavy-duty supports bolted to the floor. Another way to prevent seismic failure is to install kickers or diagonal braces that provide additional lateral support for the pedestals.
Floor Coverings
Users of raised access floors have two options when deciding on floor coverings. The first option is purchasing flooring with no finished covering, and applying the desired surface to the top of the floor, which could consist of carpet, rubber mats, resilient floor tiles, etc. The second option is to purchase raised access flooring that comes preinstalled with floor coverings. Virtually any type of floor coverings are available preinstalled on the panel surface, such as carpet, laminates, vinyl, hardwood or stone.
Benefits of Raised Access Flooring
The benefits of raised access flooring include:
The clean appearance of occupied space
Concealment of power and data cables in an easy-to-access space
The ability to place HVAC vents and electrical fixtures where desired, and relocate them as needed
Drawbacks of Raised Access Flooring
Some of the drawbacks of raised access flooring include:
A reduced floor-to-ceiling height which creates a tendency to make a space look cramped
Additional cost when occupying space, on the order of $20-$40 per square foot for design, materials, and installation
The flooring will sometimes require underfloor fire protection, depending on local codes