Resilient flooring refers to flooring materials that are relatively firm and stiff, yet will flex to provide a comfortable surface to walk upon. These surfaces will also return to form - or bounce back - after being weighted. Resilient floors are typically resistant to staining, are easy to clean, and are very durable. For these reasons, resilient flooring is widely used in institutional and commercial applications.
Sheet Flooring -- sheets come in a variety of widths. Sheets provide a more homogeneous flooring appearance and can be butt-laid or welded to avoid penetration of liquids.
Tile Flooring -- tiles come in a variety of shapes and sizes. Tiles tend to be easier to move and install, due to their size; however, they are prone to moisture getting under the floor because of the number of joints.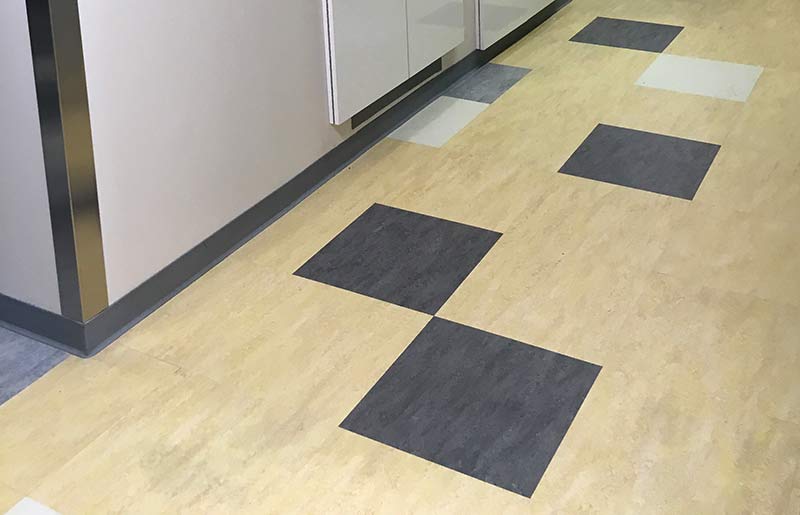 Resilient Flooring Materials
Vinyl -- a durable and stain resistant synthetic flooring. Vinyl flooring is manufactured in sheet and tile goods. Vinyl floors are often used because they can be manufactured to look like just about any natural surface including ceramic tile and stone. Vinyl has some staining issues and requires continuous buffing/finishing to maintain its shine and prevent yellowing. Recently, vinyl has been criticized because it is not considered an environmentally friendly product. Vinyl chloride is released from the product during manufacturing and after installation.
Rubber -- a durable and stain resistant natural flooring. Rubber flooring is becoming the standard flooring used in commercial and institutional environments because it maintains its appearance without having to be resealed regularly. Natural rubber products are rapidly renewable. In addition, rubber flooring can be made from recycled rubber. Rubber provides a color-through product. Although rubber floors are usually tile, sheet products are becoming more available.
Cork -- a durable natural flooring. Cork is considered a renewable resource and provides an appealing aesthetic. Although it is more costly, properly installed (and coated) cork is as durable as other resilient floors. Cork is available in tiles or in pre-manufactured panels. A big benefit of cork is its compressive quality, which makes it very comfortable to walk on.
Linoleum -- a durable natural flooring. Made from linseed oil, linoleum is a rapidly renewable product. Sold primarily as a sheet good, linoleum tiles are available, but are prone to corners lifting. A proper top-coat is required to protect linoleum and provide a durable, stain-resistant product. Linoleum is a very long-lasting product, but requires occasional refinishing.
Vinyl vs Linoleum -- It is important to note that vinyl and linoleum have historically been used interchangeably. A linoleum product that contains vinyl chloride is not a natural product.
Flooring Adhesives
The flooring manufacture's recommended adhesives should always be used. Most manufacturers are providing low-VOC products to prevent fumes from off-gassing into the building and environment. Unfortunately, these low-VOC products can be less "sticky" than traditional adhesives so it is very important to follow all recommendations for preparation of the substrate.
Some tile goods come with peel-and-stick backings that do not require additional adhesives, which are ideal for the do-it-yourself homeowner.